3 Best Practices for Your Social Command Center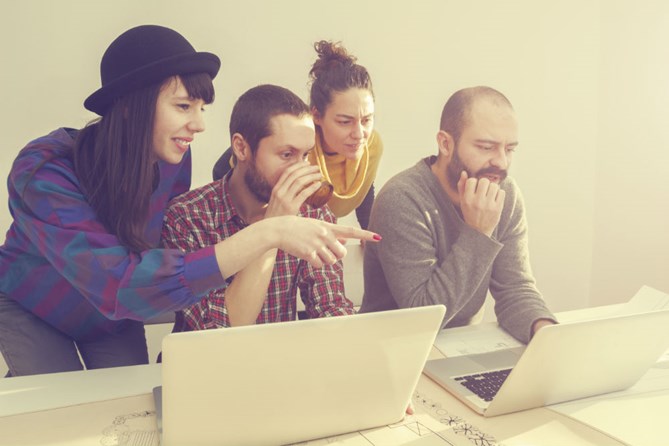 [Estimated read time: 6 minutes]
Is your company currently using social media? The answer is probably yes.
Could you put a precise number on your return on investment in social? The answer is probably no.
Companies everywhere are having a difficult time quantifying social results. In fact, a 2016 CMO survey found that only 25% of CMOs believe social media contributes to their organization's performance, and only 3% say social media makes a very high contribution. A part of the issue is that a mere 11% of CMOs said they could quantify their social ROI.
A popular trend in the world of social media marketing is the social media command center, which has been plagued by many of the same issues as other social tactics. Lack of integration into the rest of the business leads to (valid) questions about the value command centers provide. As Gartner analyst Christi Eubanks explained, companies need to "ensure your command center is a vehicle for maturity and productivity and not just a shiny toy." 
What is a social command center?
Social media command centers enable companies to monitor relevant conversations and trends in real time, giving them insight into marketing campaign effectiveness, customer experiences, and potential risks or threats.
Many brands have built physical social command centers, often a single location at HQ where several large monitors show streams of real-time social activity. While there is nothing inherently wrong about such a setup, it comes with a caveat: Beware of limiting your command center to one physical location. For major events, like the Superbowl or the Oscars, having a dedicated space can be useful. But for the everyday work of social monitoring, your command center should be easily accessible to all key stakeholders, regardless of where they are. A "virtual" command center allows you to achieve true integration of real-time social analysis into the day-to-day.
Best practices for managing a social command center 
As much as brands have hopped on the social command center bandwagon over the past several years, establishing a command center should be approached like any other business undertaking: with a clear vision, tangible goals, formalized processes, and dedicated cross-functional resources. Social media affects the entire organization, so involvement of key people across the business is crucial.
Savvy companies derive value from their command centers by monitoring on three levels: the brand, associations, and major events. Here are best practices for gathering these three types of insights through a social command center.
1. Monitoring your brand
Using your command center to track conversations related to your brand can surface all kinds of insights. Some can help you better understand how customers perceive your brand; others can highlight potential risks for negative word of mouth. Be wary of command centers that spit out a constant, chaotic barrage of social activity, as trying to find a needle in the social haystack proves tedious and unrewarding. Look for social command center functionality that leverages more sophisticated analytics, sentiment analysis, and deep learning to bring the most critical and helpful insights to the fore.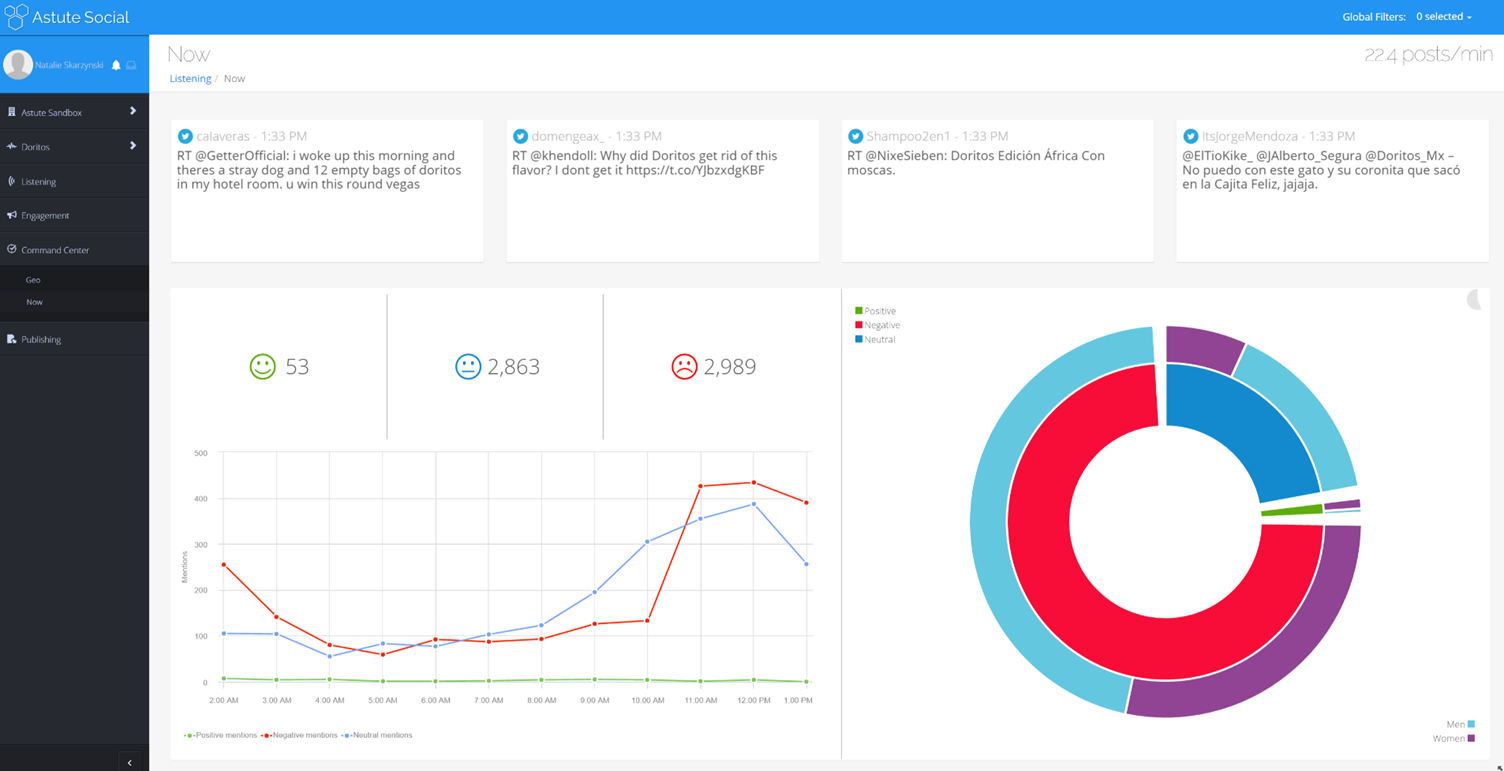 By using a command center that's integrated cross-functionally into your organization, multiple departments are in the know about the most important social activity and trends. This can help you head off potential crises. For example, say you just launched a new product. The immediate feedback from your social audiences shows a strong trend of negative sentiment, causing your social team to share relevant tweets and posts with product team, and to ask the PR team if they can help manage the backlash. Because key stakeholders across the company all have access to the command center, Product and PR are already aware of the issues and are better equipped to address them.
2. Monitoring associations
Part of understanding consumer perceptions about your brand is understanding what topics and ideas they associate with it. Products like Astute Social display associations between your brand and certain topics, hashtags, products, competitors, and more. 
In this association analysis for the restaurant brand Chili's, there are clear associations between the brand name and the hashtags #createapepper, #stjude, and #childhoodcancerawarenessmonth. All of these reflect the brand's current marketing campaign, called Create-A-Pepper, which aims to bring attention to St. Jude Children's Research Hospital and Childhood Cancer Awareness Month. The size of each circle denotes the number of mentions of these hashtags in connection with Chili's, and shows that their campaign is getting noticed on social.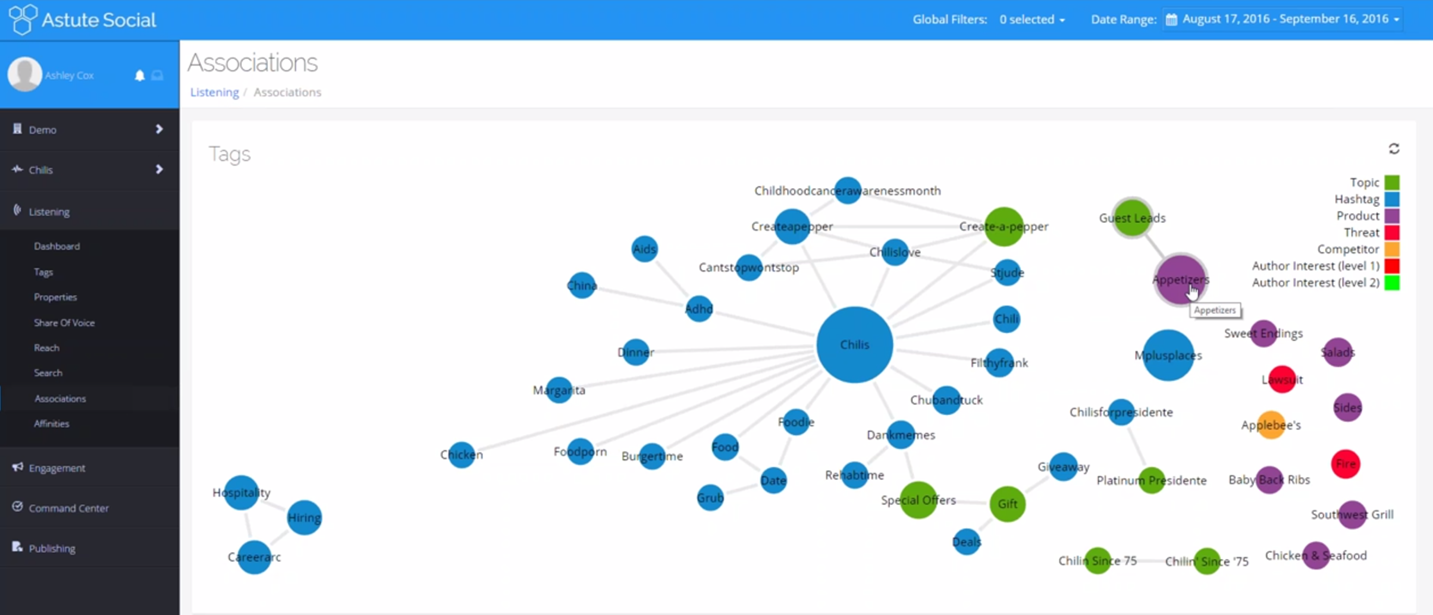 The analysis also shows an association between the topic of Guest Leads, or people indicating they may come into the restaurant, along with the product "appetizers." With this insight, the marketing team may plan some kind of promotion focused on their most popular appetizers in order to convert those leads into restaurant guests. 
3. Monitoring major events
Big events for brands happen throughout the year — product releases, sporting events, award shows, and so on — perhaps none as huge for advertisers as the Superbowl. Event monitoring is the most intuitive usage for a social command center, and lends itself well to the "traditional" command center setup with big monitors set up in some collaborative space. Command center monitoring during an event usually requires more intensity and more people, depending on the event itself. 
For example, if you're running an ad campaign during the Superbowl, you'll want to monitor what is happening in real-time with regards to your brand, trending hashtags, and so forth. You may want to look for a social media command center software that displays user posts, images, and tweets as they happen, as well as showing constantly shifting trends in sentiment, demographics, geographic location, engagement, and reach.
 A major consumer packaged goods company used Astute Social Command Center to monitor the buzz around their commercial during the 2016 Super Bowl. They tracked hashtag usage, audience interaction, and YouTube views of their commercial before, during, and after the game. Their social media team was also able to respond to mentions and comments as they happened, inviting individuals to take actions related to their campaign. For more on this topic, read our whitepaper about event monitoring with command centers.
Using these best practices for monitoring events, associations, and brand mentions, you can get the most value from your social media command center, and ensure social remains a key element of your strategy in the future. 
Learn more about how Astute Social's social media command center software can empower your team with real-time and historical social insights. Request a demo to see it in action.