Channel Choice Fundamentals: How to Improve Customer Experience
Get more sleep. Eat right. Stay active.
We all know what we're supposed to do to be healthy, but that doesn't mean we always do it.
In a similar way, company leaders know that the customer experience is increasingly important, and that delivering excellent CX drives customer loyalty and revenue. But, like eating broccoli, just because we know we should do something doesn't mean we're consistently doing it as well as we could.
In this series, we're taking a closer look at how firms can get better at delivering a great customer experience using Astute's Customer Experience Maturity Framework. In this installment, we're examining what contributes to a mature channel choice strategy and how companies can advance their maturity level.
Channel Choice Maturity Factors
No matter where they are and what they're doing, consumers want to be able to quickly and effortlessly resolve issues and find answers. Firms that lead the pack when it comes to channel choice have a solid understanding of the customer journey, and apply it to their communication strategies. Here are the factors that play into channel choice maturity:
Quantity of channels available
Popularity of channels among your customers
Ability to easily transition from one channel to another
Response time
Ability to adopt and scale new channels
Cohesive customer journey strategy

The 5 Levels of Channel Choice Maturity
LEVEL 1
Characteristics
Companies with a Level 1 Channel Choice maturity are offering customer service through traditional channels, such as a 1-800 hotline or email. But changes in consumer behavior have prompted brands to offer more options for communication. In fact, 63% of consumers perceive brands that only offer support via phone or email as old-fashioned.
How to move to Level 2
Consider expanding your communication options, starting with the channels your customers are already familiar with, such as social media and text-based chat. Meeting customers where they are drives higher channel adoption, increases first contact resolution (FCR), and enhances satisfaction. You may also want to dedicate more time and resources to your customer journey strategy, starting with customer journey mapping.
LEVEL 2
Characteristics
Level 2 companies have expanded their channel offerings, possibly adding live chat support or social customer care. It has become common practice among consumers to turn to social media to vent about bad experiences or ask for help, and they expect a quick (if not instant) response. Social channels represent significant opportunity for companies to transform negative experiences into positive ones and detractors into advocates, all in a public setting.
At this level, you're also likely to have a stronger customer journey strategy.
How to move to Level 3
The next step is to address each individual service channel and optimize it to provide the best experience. Look for ways to increase FCR, improve time-to-respond, and decrease the amount of self-service interactions that require escalation.
LEVEL 3
Characteristics
At this level, you're offering customer support through multiple channels. You've made significant enhancements to each channel and started a cycle of continuous improvement. But it may be challenging to integrate all your different channels. Channel integration provides a more consistent brand experience for consumers, and also helps you obtain better data.
How to move to Level 4
You've already achieved multi-channel support; your next step is to provide omni-channel support. Here's the difference: multi-channel allows customers to engage through many channels, while omni-channel unifies communication across all channels to provide a seamless, consistent conversation — customers don't need to repeat themselves every time they begin a new interaction. Integrating across channels requires that you have a cohesive channel strategy, share customer data across channels, and provide your support staff with the full context of customer interactions.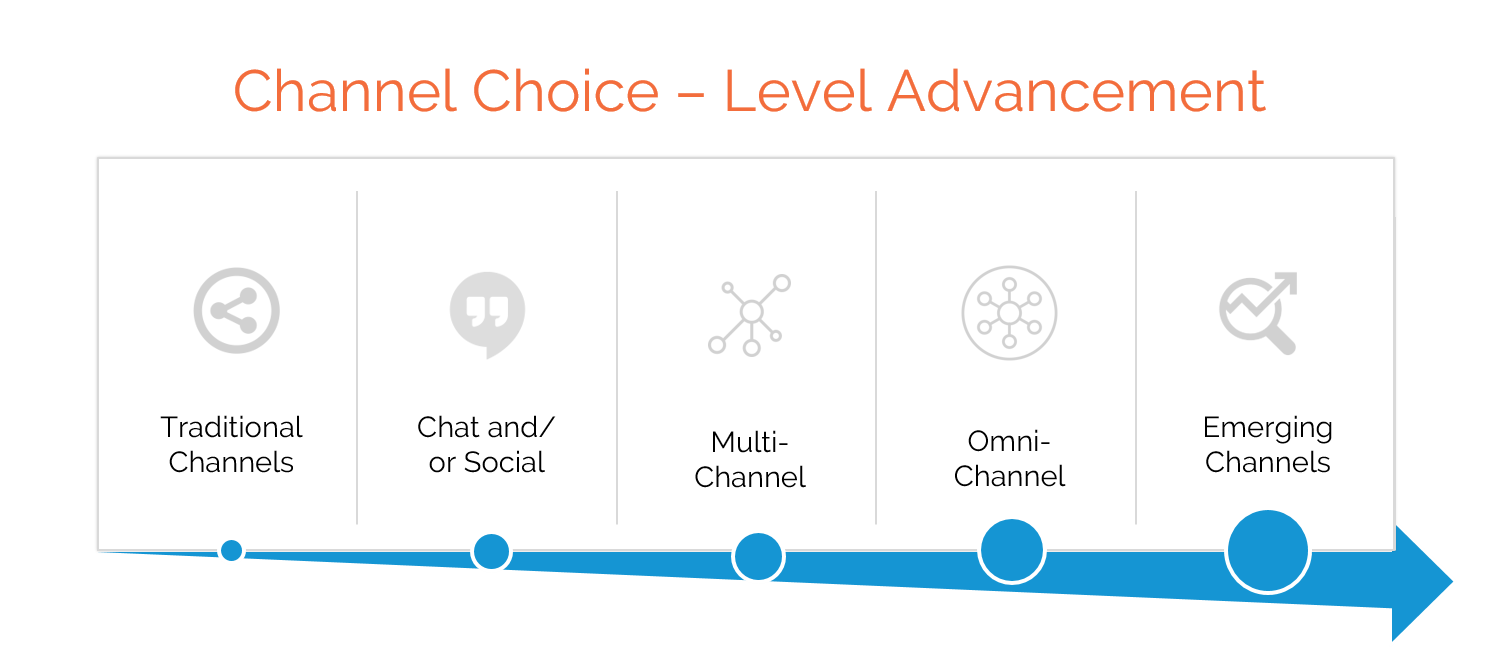 LEVEL 4
Characteristics
Level 4 companies provide a seamless omni-channel experience for customers. While everything is peachy from the customer's perspective, the same cannot be said for the agents. Many companies sacrifice ease-of-use for agents to provide a frictionless customer experience, requiring them to knit everything together behind the scenes. Not only does this approach impact agent efficiency, it makes it harder to scale new communication channels.
How to move to Level 5
Allow your service agents to work in a unified CRM interface to manage all the customer support channels you offer. Managing all channels in an integrated way on the back end puts your organization in a better position to adopt and scale emerging channels.
LEVEL 5
Characteristics
At Level 5, you're supporting the channels your customers prefer, giving them an omni-channel experience, and unifying all channels on the back end for your agents. As emerging channels become popular with your customers, you're able to quickly scale to support them.
With that in mind, don't rest on your laurels! As consumer preferences change, continuously evaluate new channels. You'll also want to watch for changes to existing channels, such as new functionality you could leverage to improve interactions.
Want to move to the next level? Work with a technology partner that can get you there. Schedule a demo of Astute's platform to learn more.