How Customer Data Integration Leads to CX Mastery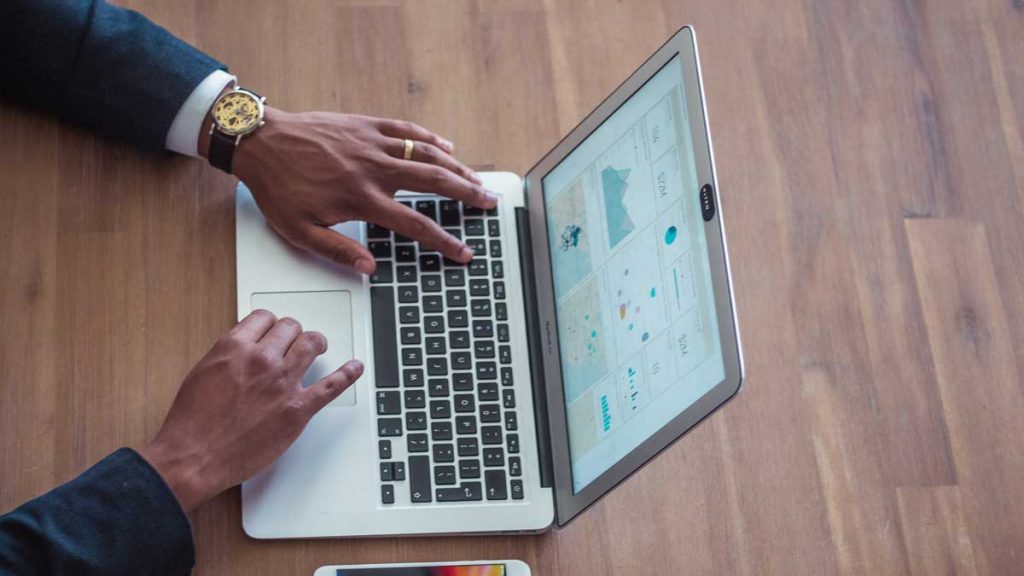 Data is the fuel that powers successful customer experience strategies. Unfortunately, 36% of marketers say they don't have the data to feel like they know their customers or anticipate their needs. Their biggest obstacles?
Gaps in systems that fail to connect data into a single customer view
Data trapped in internal silos they can't access
Customer data integration helps eliminate these obstacles. But what does it entail? How can organizations ensure they get the most from their customer data integrations? We take a closer look in this post.
What is Customer Data Integration?
Customer data integration (CDI) means combining different data sources to get a complete view of your customers and their experiences.
Integrating your disparate data sources can unlock insights that would otherwise not be visible when looking at these data files on their own. Some integrations can help frontline teams elevate individual experiences more effectively. Others can add context to existing customer records, helping eliminate the need to make assumptions about your customers' experiences.
Integrations can also help drive better decision-making when it comes to CX design and strategy.
Integrations can involve any number of data sources. These include:
Customer feedback and survey data
Web analytics
Session replay
Customer Relationship Management (CRM) systems
Support ticket management systems
Loyalty program data
Social media
Transactional / point-of-sale (POS) data
Why is Customer Data Integration Important? 4 Key Benefits
Companies collect more customer data than ever. On average, companies use 28 different sources of data for customer insights and engagement.
According to Gartner, product and interaction experiences drive over two-thirds of customer loyalty. These experiences have even more impact than 'price' and 'brand' combined.
Getting the most from your customer data sources is essential. That includes gaining a complete view of the customer experience and finding nuggets of insights on which stakeholders across all departments can act.
Here are four key benefits of customer data integration:
1. Break Down Internal Data Silos and Promote Collaboration.
CX is an organization-wide initiative, making insights-sharing across departments vital. However, data silos remain an issue for many companies.
Simpler Media found that almost half of digital CX executives they surveyed felt data silos hurt their CX initiatives. That was their top pain point.
Every department collects data for its specific goals and objectives. While each customer dataset can provide useful insights on its own, it only provides a fragmented view of the entire CX.
Customer data integration not only helps bring together these fragments. It can also help ensure a steady flow of information across the organization, providing key stakeholders with a singular, consistent view of the customer experience.
47% of digital CX executives feel data silos hurt their CX initiatives, according to Simpler Media.
2. Address Context Blind Spots in Your Customer Data.
Customer data integrations can add valuable context to existing data sets.
For example, while web analytics data shows how visitors navigate your digital properties, it doesn't shed light on the motivations driving these experiences. Integrating this data with customer feedback, for example, can add this missing context and help you better understand the experience from the customer's point-of-view. We look at an example of this later in this post.
This added context can help stakeholders understand the customer story better and limit the need to make assumptions about your customers and their experiences.
3. Help Agents Meet Growing Customer Expectations.
Customers today place a premium on great experiences. In fact, they will pay 17% more to get excellent service. At the same time, 32% of customers stop doing business with a brand after only one bad experience.
Today, customers prioritize speed, convenience, knowledgeable help, and friendly service when it comes to their brand experiences. Customer data integration, such as feeding details about the customers' most recent brand interactions within support tickets, can give agents quick insights they can use to deliver fast and quality service (without having to dig around for more information).
4. Make More Informed Decisions.
A clearer picture of the customer experience drives more effective CX strategies. After all, it's easier to make the right call when you have the full story.
With access to more insights and a deeper understanding of their customers and their experiences, CDI can help stakeholders prioritize projects, determine the next best actions, and tackle their tasks more confidently.
2 Key Types of Data Integration
Connecting individual data sources into a single entity is worth more than if the sources remained in silos. Integrations enhance the value of customer data by making it accessible and actionable in other business systems.
Integration capabilities can be grouped into the two categories below. We will look at examples of a fictional company collecting feedback via a voice of the customer (VoC) program.
1. Data Injections (Address the Context Blind Spot)
This is where you combine one source of customer data with another. In addition to collecting customer feedback on their site, our example company also collects web analytics (behavioral) data to track how visitors navigate the site during their sessions.
Behavioral data provides a wealth of insights on its own. However, it has a blind spot. It is often missing the context behind these sessions. In the absence of this context, we may overlay our own opinions, experiences, and perspectives to make sense of it all. With such a broad range of potential interpretations, this company opts to inject their customer feedback data into their web analytics data. The goal? To get the 'why behind the what' of their website session.
That is relevant when we connect what customers say with what customers do, as better understanding their needs and gaining the ability to respond to them improves exponentially.
The injection of customer feedback into observed behavioral data opens up a range of other profiling and segmentation capabilities within existing reporting tools. These include segmenting based on the visitor's:
Intent (or the motivation driving their session)
Relationship to the company
Ability to complete their tasks (which could sometimes contradict what the web analytics data shows)
Demographic information, like gender, age, and household income
Below is a general example showing insights that can come from integrating your customer feedback (stated visitor intent / purpose of visit, purchase intent) and web analytics (organic vs. paid vs. referral traffic).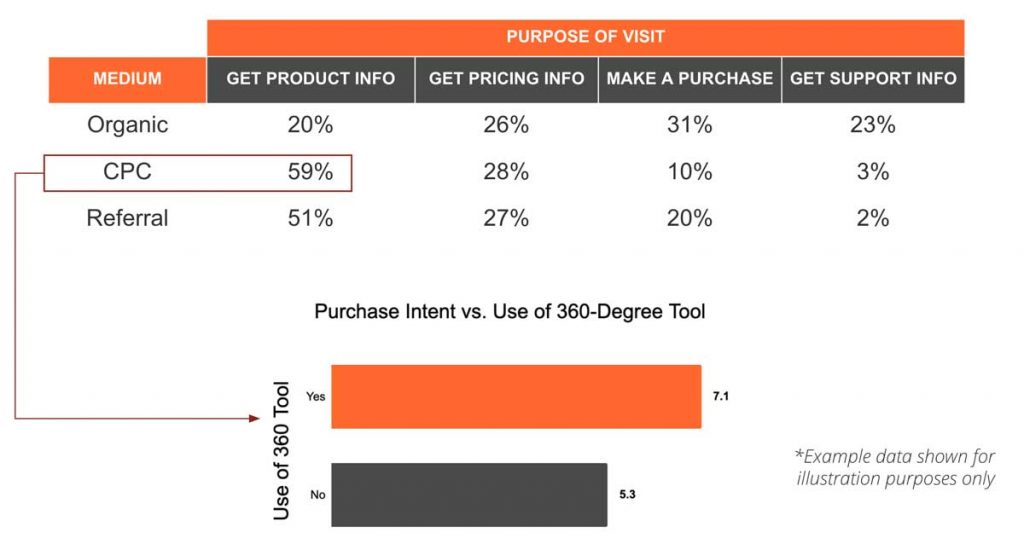 As a result, this particular integration exponentially increases the capabilities of these systems to find actionable insights.
2. Process/System Injections (Empower Real-Time Action)
These injections involve triggering actions within existing processes and systems based on customer data you've collected. These integrations aim to enhance the performance of these systems. Most importantly, they empower stakeholders with timely insights to help them improve CX.
Integrations of this nature are particularly well-suited for such things as tactical intelligence.
Using our fictional company example, this can come from integrating customer feedback with existing Customer Relationship Management (CRM) and ticket management systems. Pushing feedback from your surveys into these systems can inject additional context into existing customer records or support tickets. At the same time, organizations can set up automated alerts to notify a specific distribution list to enable quick action. Plus, follow-up actions can be tracked and resolved using the systems already in place.
As a result, these types of integrations can help key stakeholders:
Improve response times
Increase conversion
Identify, track and resolve customer issues
Reduce churn
4 Customer Data Integration Best Practices to Consider
Data integrations often take time, effort, and resources to perform and test. However, it can provide key stakeholders with a fountain of insights they can leverage to drive key decisions and determine the best next steps when completed.
How can you best approach your customer data integration strategy? Consider these five best practices to consider:
1. Determine Goals and Identify Data Gaps.
As with any project, laying out and communicating the goals for each data integration effort beforehand ensures all integration-related tasks are clearly defined and remain on track over time.
For example, are you looking to:
Help customer service agents close the loop on experiences quicker?
Better inform the marketing team of prospects' journeys as they go through the sales process?
Empower account managers with insights into how customers are interacting with your offerings?
Working with key stakeholders to identify what type of customer information they would benefit from accessing quickly (without needing to jump through many hoops) can help inform and prioritize your integration efforts.
2. Always Have "Action" in Mind.
A general rule of data collection is: if you can't act on it, you probably don't need to collect it. The same principle applies to data integrations. If it won't help unearth insights you can act on to boost CX, is it worth doing at all?
Tying desired actions to each integration before taking on the project can help determine how (and if) it should be prioritized and ensure that time and internal resources are most efficiently used.
3. Ensure Easy Access to Integrated Insights.
Each stakeholder should have any source of data that will help them more effectively do their job. When it comes to integrated data, it's essential to determine how stakeholders can easily access these insights.
For example, updating existing internal customer experience dashboards (or creating new ones) to incorporate these integrated insights can help ensure these integrated insights are easily visible.
Once any data integration is complete, it is essential to set aside time to educate internal stakeholders on how they can access these insights and get the most from this integration for their specific needs.
4. Assign Responsibilities, Collaboration, and Governance.
A lot of coordination and collaboration is required to implement, test, and ensure stakeholders can get the most from these integrations.
Assigning clear responsibilities from the beginning of the project will help minimize confusion and miscommunication. Once the integration has been implemented, identifying internal champions who will regularly review and discuss the positives, issues, and opportunities from this integration is key to ensure all key stakeholders can get the most out of it.
Customer Data Integrations to Fuel Customer Engagement
At Astute, we understand the value that timely insights play in empowering organizations to deliver amazing experiences today, and drive successful CX strategies. Our proven customer engagement solutions leverage the power of customer data integrations to ensure key stakeholders have access to the right insights at the right time, without needing to jump through hoops.
See how Astute can help your brand. Schedule a personalized demo today.