[Infographic] 20+ Key Customer Experience Statistics For 2020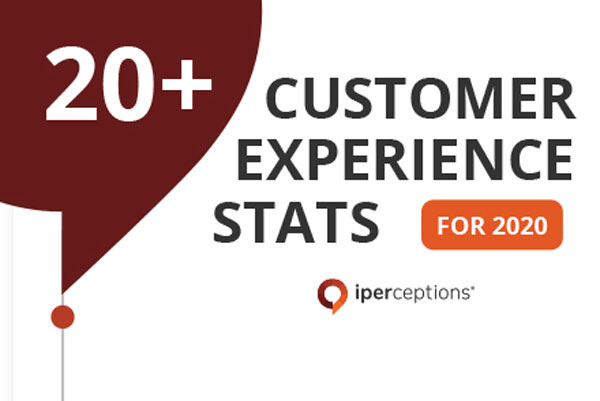 Today, more than ever, your customers are calling the shots, and brands must adapt.
They now have the means and technology at their fingertips to give them access to more options than ever before. Your customers want to do things their way. They expect brands to give them what they want, how they want it, and when they want it (usually in real-time).
As a result, your customers are placing more and more weight on the Customer Experience (CX) when choosing between you and everyone else. As a result, your ability to deliver amazing CX can have reverberating effects on your bottom line.
The key for brands like yours to succeed today is to design a CX program that delivers great experiences across the customer journey. To do it right, it can require a lot of time, energy, resources and money to get buy-in from the right stakeholders (particularly from your C-Suite), which can be a tough sell internally.
Showing just how much CX can impact the bottom line, however, can help you get the ball rolling.
To help you, we've gathered 20+ eye-opening Customer Experience statistics that every CX professional needs to know in 2020, plus some key takeaways to help guide your CX management efforts. We've also compiled these stats in infographic form at the bottom of this post.
The State of Customer Experience as we step into the 2020s
More and more research is showing the Customer Experience's impact on the bottom line. As a result, the importance of designing a solid CX program has never been greater.
Key Takeaway: The importance of CX only continues to increase. As a result, brands are investing more resources into designing, managing, and optimizing experiences that deliver (and exceed) on customer expectations.
Customer expectations for CX keep on growing
It is a constant struggle to keep up with customer expectations. These expectations are powered by a combination of technology and easier access to information and options than ever before.
Key takeaway: Today, you must have the measures in place to understand what your customers need and expect at each stage of their customer journey. Collecting customer feedback across all your touchpoints at critical moments in the customer journey is an essential component of any effective CX program.
Great CX helps boost your revenue (more quickly too)
The connection between quality Customer Experience and revenue is undeniable. It's no surprise that brands who offer great CX see their revenue grow faster than those who don't put CX as a top priority.
Key takeaway: Sometimes, customers may be willing to open their wallets a little more if it means receiving a better, more pleasant, and seamless experience and customer service down the line.
Amazing CX and customer service boosts customer retention and loyalty
High customer retention and loyalty are critical to a brand's long-term success. A winning CX program not only helps you gain new customers – but it also makes them want to stay with your brand long-term.
Key takeaway: Every experience counts. Brands today must have the measures in place to continue catering to their customers' expectations over time, but also to detect and remedy bad experience by closing the feedback loop as quickly as possible.
Customer Experience also impacts word-of-mouth
It's easier than ever for people today to share their experiences (or horror stories) with others. Amazing CX encourages people to paint a positive picture of your brand to others.
Key takeaway: There's a lot of business at stake when it comes to CX you are offering, whether it's repeat business from existing customers or new business from potential customers.
The key to a successful CX program? Customer-centricity.
Research continually shows the reverberating effects that Customer Experience can have on your bottom line. Designing, managing and optimizing a CX program can be a large investment in terms of time, money and resources. However, when done properly, it can provide you with a valuable advantage over your competitors and set you up for both short- and long-term success.
But a CX program can only succeed if you put the customer at the heart of all your decisions.
Leveraging a Voice of the Customer solution to collect customer feedback across the entire customer journey empowers you to be customer-focused in your CX efforts. Not only that, but it also helps you align internally more quickly, allowing you to act on your customers' expressed intentions and needs so you can deliver amazing experiences throughout their journey.
You can view an infographic of these stats here.
Ready to accelerate your CX journey? Schedule a time to see Astute's end-to-end customer engagement platform in action.
This article was originally published on iperceptions.com.