10 Email Survey Best Practices to Collect Timely Insights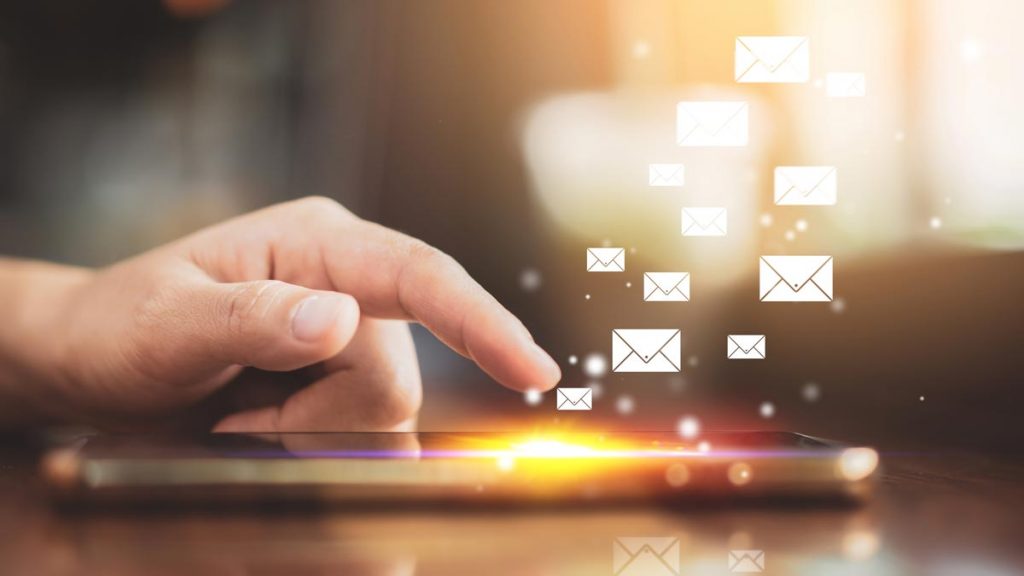 How many times have you looked at your emails today? Well, according to one study by Magnetic and Retail TouchPoints, 44% of North Americans do so between one to three times a day. Twenty percent even do this more than 10 times daily.
Not surprisingly, email is a channel most of us turn to regularly, whether for work or personal reasons. That's why customer-centric brands seeking ways to improve customer retention and satisfaction often turn to email surveys to help them gain insights to do this.
What makes for a strong email survey? What can you do to get the most out of your efforts? In this post, we look at 10 email survey best practices to consider.
Why email surveys?
Consider the following:
Collecting customer feedback is essential for any brand wanting to stand out in the age of customer experience (CX). It provides a critical source of first-party insights that can help drive immediate action and inform long-term strategies.
It also provides a way for brands to engage their different customer segments at specific moments in the journey and perform targeted research that helps garner detailed insights on which customer success teams can act.
33% of Americans say they consider switching companies after one poor customer service experience, per an American Express study.
At the same time, email surveys allow you to be proactive in your feedback collection. For customer retention purposes, this can be more ideal than taking a reactive approach and only obtaining their feedback when they reach out to you, which may already be too late to act, especially if it's related to a poor experience. Plus, it helps signal to your customers that you care about their experiences and that you're always looking to get better.
With that in mind, what makes for the best email surveys? Let's look at some best practices for how to send a survey by email.
10 Email Survey Best Practices to Keep in Mind
1. Choose your objectives.
As with any project, it's essential to clarify the mission statement of each of your email surveys before doing anything. That will give you and your team the direction needed to keep your survey design and analysis efforts on track throughout the project.
Common examples of objectives could include:
Understand and elevate how our customers view their in-store experiences
Gauge how our customers feel about our support materials
Measure our customers' likelihood to renew and identify barriers to renewal
Pinpoint the key drivers of our customers' satisfaction
Gain insights to help drive our product management efforts
At this stage, determining the KPIs to track and trend, and the ones you want to improve, is essential. Getting all your ducks in a row early on will help ensure your email survey efforts remain focused and help ensure a positive survey experience as a result.
Confirm your email survey's mission statement – your business objectives and your KPI's – before doing anything else.
2. Be targeted in your approach.
An advantage of email surveys is that you can specify exactly how a customer will qualify for it and when to engage them (more on that below).
The customer segment you target with your email survey will be entirely dependent on the business objective you've chosen. For example:
Looking to better understand how customers perceived their latest in-store visit? Target those that you can identify as having made a purchase recently at one of your locations.
Looking to improve customer retention and renewal rates among your annual subscribers? Target only those who you detect have an upcoming renewal 30 days from now.
Linking the voice of the customer (VoC) with your Customer Relationship Management (CRM) solution can prove useful in segmenting your customers and scheduling sends for targeted email surveys. In addition, programming skip logic in your survey – where respondents will only be shown specific questions based on their previous answers in the survey – can help the survey feel more personalized and targeted to the customer than using a standard questionnaire.
Email surveys enable you to perform targeted research with different key customer segments and simplify your analysis.
3. Make it timely.
As with any email campaign, timing is everything. Again, a lot of it goes back to the objective you picked out for your survey. However, the timing you choose should have "action" in mind. That is, your email survey data is only as valuable as what you do with it.
For example, if you want to do a post-interaction survey on a customer's experience with a support agent, the sooner you engage them for their feedback following the experience, the better. The experience will still be fresh in their mind while ensuring you can be made aware of potential issues that should be addressed immediately.
One study found 51% of social media users have called out a company on social media, with "bad experience with product/service" and "poor customer service" being the main culprits.
On the other hand, if the survey focuses on preventing churn, consider engaging early enough to be able to act on their feedback and not too late so that you don't have enough time to address their concerns.
If your survey is more exploratory and not specific to one experience, referring to best practices for standard email campaigns could help provide a reference for your efforts. For example, Campaign Monitor reports that Tuesday and Thursday see the highest open rates of any other day (18.3% and 18.0%, respectively). Saturday sees the lowest open rates (17.5%).
But it is also important to leverage any knowledge you may have about your customer's habits and the context in which this email will be sent when making this decision.
4. Pick a solid email subject line for your survey invitation.
According to an Adobe study, people spend an average of 2.5 hours a day reading personal emails. That is in addition to the 3.1 hours we spend on work emails. That makes for a lot of emails every day.
The ability to make your survey email stand out from the others is key to strong email survey collection rates. A captivating email subject line is key to make this happen.
What makes a subject line captivating?
Clear and concise. A Marketo study found that a subject line of seven words, or about 41 characters, resulted in better performance.
Allude to what customers can expect when they open the email and the action you would like them to take.
When possible, consider personalizing it to the customer (without making it creepy). Studies have found this to help email open and click-to-open rates for email marketing campaigns.
Avoid the generic. "Customer Survey" and "Survey" won't do it.
For inspiration on the do's and don'ts for your email survey invitation subject line, consider referencing the myriad of best practices out there for standard email marketing campaigns. It also never hurts to draft a few potential subject lines and share them with colleagues to get their thoughts.
Your email subject line should be clear, concise, personalized (when possible), and especially not generic.
5. Be clear on the request.
Your customers reacted to your email subject line and decided to open your email. That's great. However, a strong subject line means little if your email's body – the request for them to take the survey – falls flat.
So how to write a survey email that drives action? From the time you engage customers for their feedback to the email survey questions themselves, focus on making it feel like a conversation between you and your customers. It shouldn't feel robotic and generic.
Again, conciseness and personalization can go a long way in helping your response rates. Here are three key things to touch on in your email:
Why you are running the survey and how you will be using their feedback to improve the customer experience.
Approximately how long it will take them to complete.
Show gratitude. Remember, your customers are taking time out of their day to complete this survey.
From a design standpoint, consider keeping the design simple (little to no images, HTML only), and using a font and design that is both native and webmail client-friendly.
6. Consider including the first question in the email.
There are a few ways you can ask customers to start the survey in your email, which would then take them to a new window:
Paste the hyperlink or embed the hyperlink within text.
Embed a hyperlink inside a CTA button (e.g., "Start the Survey")
Embed the first survey question directly in the email (e.g., 1-5 stars)
The first two options are the more traditional approaches, though option #2 can often look cleaner and allow you to leverage your brand colors on the CTA button. However, option #3 can be ideal when searching for ways to make the survey experience as seamless as possible.
Providing the first question in the email gives customers an idea of what they can expect from your survey. It also helps reduce the overall amount of 'clicks' needed to complete the survey, helping boost your survey response rate.
Below is what this could look like using Astute's Interaction Experience solution: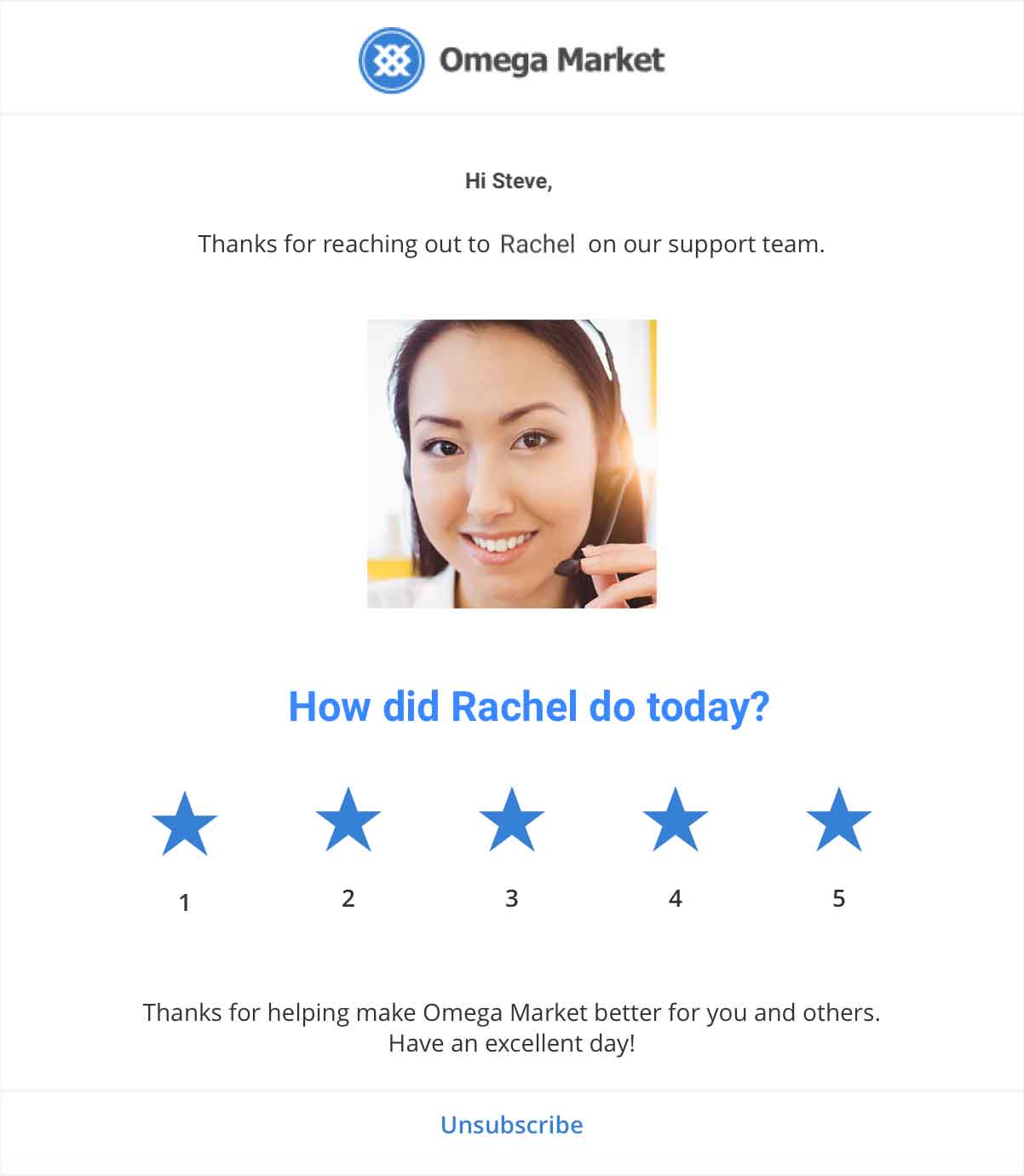 7. Optimize for mobile.
Mobile is the most popular environment in which people read their emails. That said, few things are more frustrating to mobile users than a site (or a survey) that is not mobile-optimized.
With your customers being more likely to view your email and survey on their mobile, it's imperative to consider and test the nuances and differences in the mobile and desktop survey experiences before launching your survey.
From the email design (if you decide to include images/backgrounds in the email) to the survey interface, all aspects of your email survey should be responsive to whatever device your customers may be using.
For more on this topic, check out our post, 16 Helpful Tips to Increase Your Survey Response Rates.
Ensure your email design and the survey interface are optimized for mobile and responsive to any device.
8. Connect your feedback with your CRM.
Integrating your customer feedback into your CRM can help provide your customer success teams a complete view of customers' experiences and help them take action more quickly.
For example, imagine you send an email survey to customers following an interaction with your customer support staff, and the customer was displeased with their experience. You can ensure measures are in place so that they are made aware of their performance right away, and can act quickly to address any issues should they arise.
Look into ways you can best empower your customer success teams in real-time with insights from your email surveys.
9. Assign ample time for QA and proofreading.
No email survey best practices list should be complete without this step.
We're all permanently swamped with our different responsibilities. It can be easy to overlook a typo, fail to notice missing skip logic, or miss that something isn't loading correctly in your email or the survey itself. Asking others to test your email and survey experience on different devices can help catch items that may otherwise have gone unnoticed.
Allotting sufficient time to this part of the process before launching your email survey can help prevent having to troubleshoot technical issues on the fly and impacting your sample – or worse, negatively affecting how customers view your brand.
Make sure you have a plan to QA and test all aspects of your email survey before sending it out.
10. Continually share insights to key stakeholders.
Congrats! You've just launched your email survey. But clicking "send" is not the end.
Customer feedback is only as valuable as what you do with it. To get the most out of your customer feedback, it needs to reach the right people at the right time.
Look into ways to automate the sharing of these insights to key stakeholders in your organization. But also, determine how you can deliver these insights in an easily accessible and consumable way. Whether it's providing access to key stakeholders to your survey insights directly in your survey provider's platform, or leveraging customer experience dashboards tailor-made for specific stakeholders, ensure the insights from your email surveys don't live in a silo.
Ensure insights from your email surveys reach the right people at the right time. The insights should help key stakeholders act quickly and effectively.
A robust platform for email surveys and more
Collecting customer feedback is a critical exercise for any customer-centric brand today, and email surveys can help unearth key and timely insights that can help improve customer retention and satisfaction. Not to mention, elevate the customer experience at key moments in the customer journey.
Astute VoC, our voice of the customer solution, can give you the tools backed by seasoned VoC experts to help you launch, manage, and guide you on the latest email survey best practices, so you can get the most out of your VoC program. Request your personalized demo today to see how we can help.