Get Inspired! 7 Twitter Advertising Examples to Emulate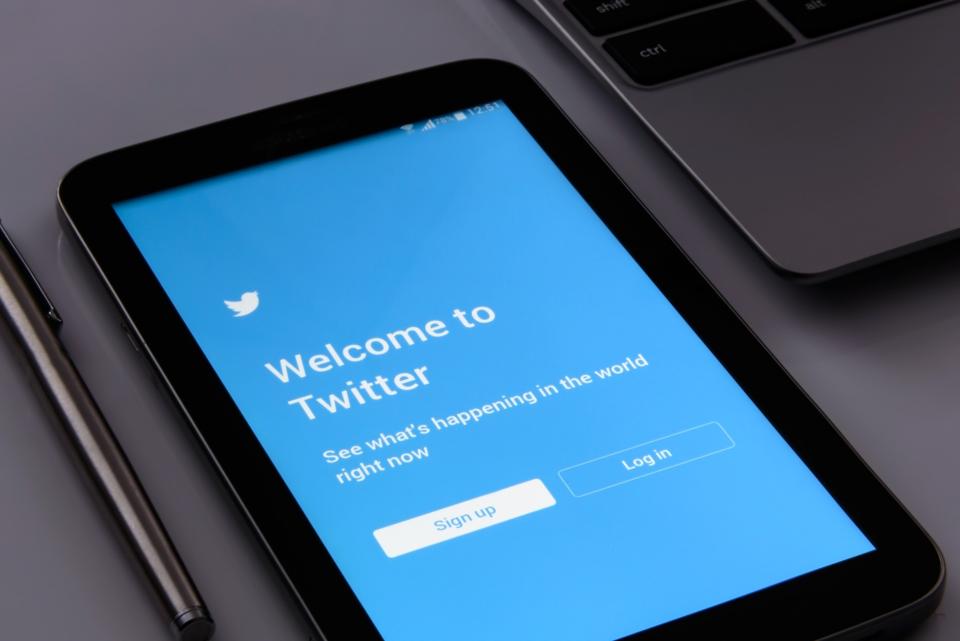 [Estimated read time: 11 minutes]
Ah, social media. No longer brand-spanking new, yet ever-evolving! As social media matures, brands are embracing social advertising to engage with consumers and drive marketing goals.
In this multi-part series, we're exploring what makes a successful social ad on the most popular social networks. We've already covered Facebook, and Twitter is next on our list!
Read on for insights into executing successful Twitter ads — including seven examples of brands that did Twitter advertising right.
Why advertise on Twitter?
According to the Pew Research Center, around one-quarter of online adults use Twitter. That amounts to 317 million monthly active users, only slightly fewer people than the entire population of the United States. The platform tends to be more popular among younger generations, those with college degrees, and those with higher incomes.
Advertising on Twitter has many of the same benefits as advertising on Facebook: promoted content appears in tandem with organic content, there are robust targeting options based on user data, and the cost per click is usually less than "traditional" online ads. Plus, Twitter ads are more than twice as likely to convert as organic tweets.
Should your brand be leveraging Twitter ads? Take a look at the following pros and cons:
Pros of Twitter ads
Different goals based on your needs. Twitter ad campaigns can be built to support various objectives, such as driving traffic to a webpage, growing your follower base, creating brand awareness, or encouraging engagement with a tweet.
Wide range of targeting options. Twitter ads can be targeted to sets of users based on demographic data, their interests, other accounts they follow, and keywords found in past tweets. In addition, you can create Tailored Audiences that match Twitter accounts to your own CRM data or customer lists.
Typically lower-cost. Promoting tweets and accounts is generally less expensive per interaction when compared to search advertising, like AdWords.
Cons of Twitter ads
Short lifespan of tweets. In terms of how quickly posts get pushed down the feed by new content, nobody's faster than Twitter! The average lifespan of a tweet is only about 18 minutes. That's why, in general, more frequent posting pays off on Twitter.
Stiff competition from organic content. Like advertising on any social platform, your ads will compete for eyeballs with everything in the timeline, including breaking news, funny GIFs, and the latest meme.
Slowing user growth. Twitter's growth in users lags behind that of other social networks. Twitter is projected to add just 3.6 million users by 2020, compared to the 13.9 million that had previously been forecast.
What makes a successful Twitter ad campaign?
Should you decide to launch a Twitter ad campaign, you'll want to consider the following elements in order to make it successful.
First, choose which type of Twitter ad you want to use. You can choose to promote…
Your tweets: Pay to place your content in the Twitter feed of users who don't currently follow you.
Your accounts: Pay to include your account in Twitter's "Who to Follow" suggestions for users.
Your hashtags: Pay to place your hashtag at the top of the "Trends" list in certain locations (note: this option can get quite pricey).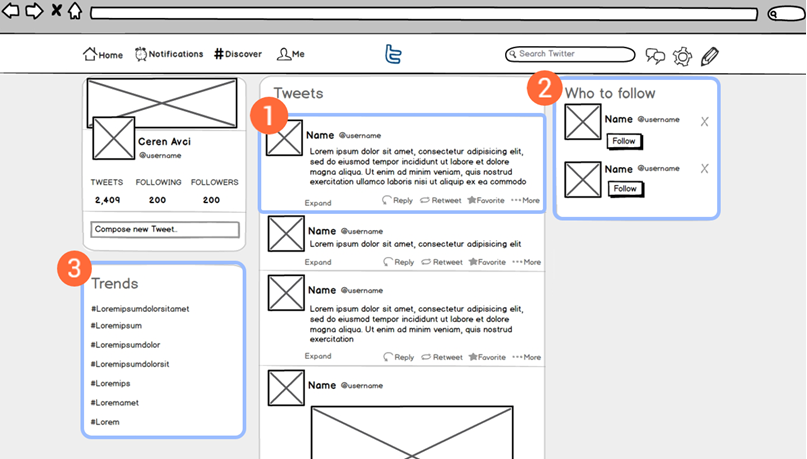 Should you choose the first option (promoting a tweet), you'll need to decide on a format. There are currently nine distinct varieties of promoted tweet formats, including image gallery cards, lead generation cards, and player cards that play videos, GIFs, or music.
Next, you'll want to include these six elements of a great promoted tweet campaign:
Fine-tuned targeting: Take advantage of Twitter's ad targeting options to get in front of the audience you really want to reach. If you want to target multiple audiences with a similar message or offer, make sure to have ad variations tailored to each audience.
Relevant content: What you're offering in the ad — whether it's a piece of content, a coupon, or a new product — must be relevant to your target audience. Bonus points for playing off current events.
Punchy copy: You only have 140 characters, after all! Shorter copy tends to stand out. Plus, resist the urge to #hashtag #every #single #word — hashtags should be used sparingly in your promoted tweets.
Attention-grabbing visuals: Because people are just scrolling through their feed (vs. searching for a solution to a problem), the best Twitter ads have an eye-catching video, GIF, or image.
Compelling to click through: Give users a good reason to engage with your ad. What would make someone want to click to learn more or take an action?
Adjustable based on real-time analytics: Things move fast in the Twitterverse, so it would be wise to have a mechanism in place that delivers real-time social insights and allows you to adjust mid-campaign.
With these six elements in mind, let's explore seven examples of brands that executed great Twitter ads.
Examples of great Twitter ads 

— 

and what they did well
Example 1: Nationwide
In this promoted video tweet, Nationwide gives a behind-the-scenes look at their recent TV commercial featuring Leslie Odom Jr.
What Nationwide did well
Attention-grabbing visuals: Videos are more likely to catch Twitter users' attention as they scroll. This ad also draws attention by featuring a celebrity.
Great content: Instead of simply replaying their TV ad on Twitter, Nationwide is sharing extra content that wasn't in the original commercial. With this tactic, they're enhancing the effectiveness of their campaign by capturing additional engagement across multiple channels. This ad also shows humanity and humor with Leslie Odom Jr.'s silly vocals!
What you can take away
Coordinate your efforts across traditional and digital media to strengthen your campaigns and get better ROI. But also make sure you're sharing something unique or exclusive to social media. As you plan your next campaign, consider places where you can leverage content created for one medium for use in another.
Example 2: Kikkoman
Kikkoman promoted their soy sauce (and #NationalNutritionMonth) by demonstrating a recipe for veggie stir fry, taking a popular social content tactic, the recipe video, and adding their brand's bold personality.
What Kikkoman did well
Audience targeting: Although it's difficult to tell for sure without seeing Kikkoman's campaign settings, it's entirely possible that they targeted this promoted tweet to users with an interest in food, nutrition, and/or cooking. They could have created a target audience of users who have stated their interest in those subjects, have used certain keywords in previous tweets, and/or follow other related accounts.
Relevant content: Kikkoman is combining two timely trends in this ad: 1) recipe demo videos, and 2) increased interest in healthy eating. Both trends suit their brand well. Plus, by demonstrating a recipe, they're showing potential customers exactly how to use their product.
Attention-grabbing visuals: On today's social networks, video content is king. Combined with the fact that social networks are also dominated by images of food, food-related videos are poised for success.
What you can take away
Take a social media trend and make it your own — as long as it's compatible with your product and brand personality. It's also important to make your message and your product relevant for your audience by illustrating how it fits into their lives.
Example 3: Volkswagen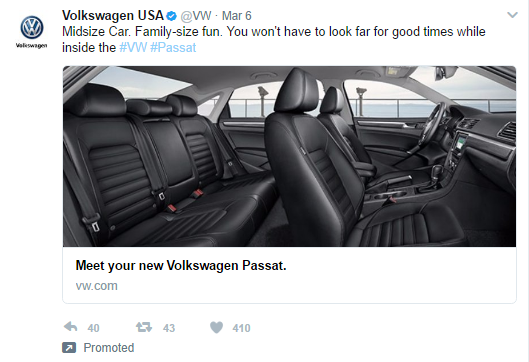 Volkswagen promoted this tweet showcasing the family-friendly features of their Passat.
What Volkswagen did well
Punchy copy: VW used their 140-character limit well in this ad, using wordplay to call out what differentiates the Passat. They also didn't go overboard with the hashtags.
Attention-grabbing visuals: The image further supports the ad's claim about the Passat having "family-size fun," drawing attention to its roomy interior.
What you can take away
Visuals, visuals, visuals! The importance of highly visual Twitter ads cannot be stressed enough. Think about using an image or video that highlights what differentiates your product or service, and use your 140 characters (or less) to reinforce the message being visually conveyed.
Example 4: Casper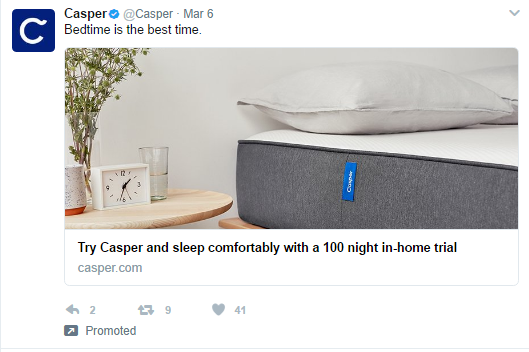 As one of many e-commerce mattress start-ups entering the market over the past few years, Casper tries to stand out by promoting their in-home trial.
What Casper did well
Punchy copy: Shorter stands out. Casper certainly didn't mince words with this tweet!
Compelling to click through: Casper puts an appealing offer — their 100 night in-home trial — front and center, helping to combat objections potential customers may have to purchasing a mattress online.
What you can take away
Casper seeks to distinguish their brand in an increasingly crowded marketplace by combining minimalist copy and design with an objection-quashing offer. If you're in an emerging industry or have a unique product, take a leaf out of Casper's book when it comes to 1) grabbing attention and 2) preemptively handling objections.
Example 5: Gas-X
In this animated ad, Gas-X communicates that taking antacids is as effective at getting rid of gas as poking a voodoo doll with a pin, showing their product as the better option. 
What Gas-X did well
Attention-grabbing visuals: GIFs are a relatively simple way to add animation to otherwise static content. Here, Gas-X leverages this medium to inject some humor into their message.
Punchy copy: Phrases like, "Curses, foiled again" bring a lighthearted approach to somewhat uncomfortable subject matter.
What you can take away
Have you embraced animated GIFs yet? Less labor-intensive than video, GIFs provide an element of motion to help catch a Twitter user's eye. Think about the images you might typically use in a tweet, and consider how you could animate certain components to make them more compelling.
Example 6: Progressive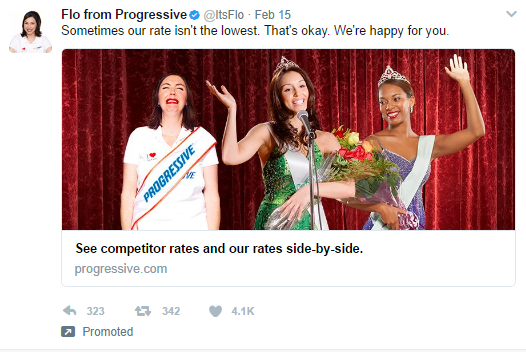 Audiences are familiar with Progressive's brand character, Flo. In this promoted tweet, Flo appears as a runner-up at a beauty pageant. (It's okay, Flo…maybe you'll be Miss Congeniality?)
What Progressive did well
Punchy copy: The tweet's copy is concise, humorous, and fits well with the message of the image. Bringing more pricing transparency to buying insurance (even when their rate isn't the lowest) is a differentiator for Progressive, and the ad copy makes that clear.
Attention-grabbing visuals: This comical visual featuring Flo as runner-up effectively and quickly communicates Progressive's differentiator. The old adage, "A picture is worth a thousand words," could not be more true for a platform where users scroll as quickly as they do on Twitter.
Compelling to click through: Consistent with the rest of the ad's message about transparent rate comparisons, the ad's call-to-action is to compare insurance rates on Progressive's website.
What you can take away
All the elements of Progressive's ad work together to communicate their differentiator, and the ad also manages to convey that message very quickly. Imagine you only have a few seconds to share your message with your audience — what is the most important thing you'd want to make people understand about your brand or product? And how would you go about doing it in the quickest way possible?
Example 7: AT&T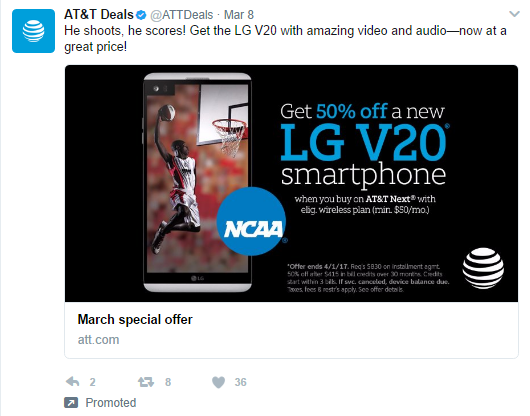 In this promoted tweet, AT&T leverages NCAA tournament fever to highlight the audio and video features of the LG V20 and to spread the word about their 50% off deal.
What AT&T did well
Relevant content: With the NCAA tournament in full swing, college basketball dominates conversations everywhere. AT&T's timely tweet suggests that you'll need something to watch the games on.
Attention-grabbing visual: Two visual elements stand out in this tweet. First, the awe-inspiring image of a basketball player getting ready to dunk, and second, the crisp picture on the LG smartphone itself. AT&T does a nice job visually linking the positive feelings people associate with college basketball with the features of the product they're promoting.
Compelling to click through: As deals go, 50% off is pretty compelling. However, there is one critique for this ad's call-to-action: Instead of saying simply, "March special offer," AT&T could have used this real estate to create more urgency for taking advantage of the offer.
What you can take away
When you're tempted to play off current events in your ad, consider a few questions before you go for it: Does a connection between your brand/product and this current event or trend make sense? Is your target audience interested in this subject? Would calling out this event or trend be considered controversial? If so, are you willing to risk it? For more tips on leveraging social trends, download our checklist 7 Social Media Management Trends and How to Conquer Them.
Now you try!
Using these seven examples as inspiration for your future Twitter campaigns, it's time to take the plunge! Remember that your Twitter ads should be well-targeted, punchy, compelling, relevant, and attention-grabbing — and don't forget about monitoring real-time results to make adjustments as needed.
A final suggestion: Think about consolidating ad management across social media platforms into one tool, such as Astute Social. Astute's comprehensive social media management software gives you control over creative, budgets, testing, and analytics for ad campaigns on Facebook, Twitter, and Instagram. It also allows teams to manage social listening, engagement, and publishing.
Are you already using Astute Social? Contact us to learn more about ad management capabilities. And check out the next post in this series: examples and best practices for Instagram advertising.
Related Content