Is Employee Health Screening Required? and Other Questions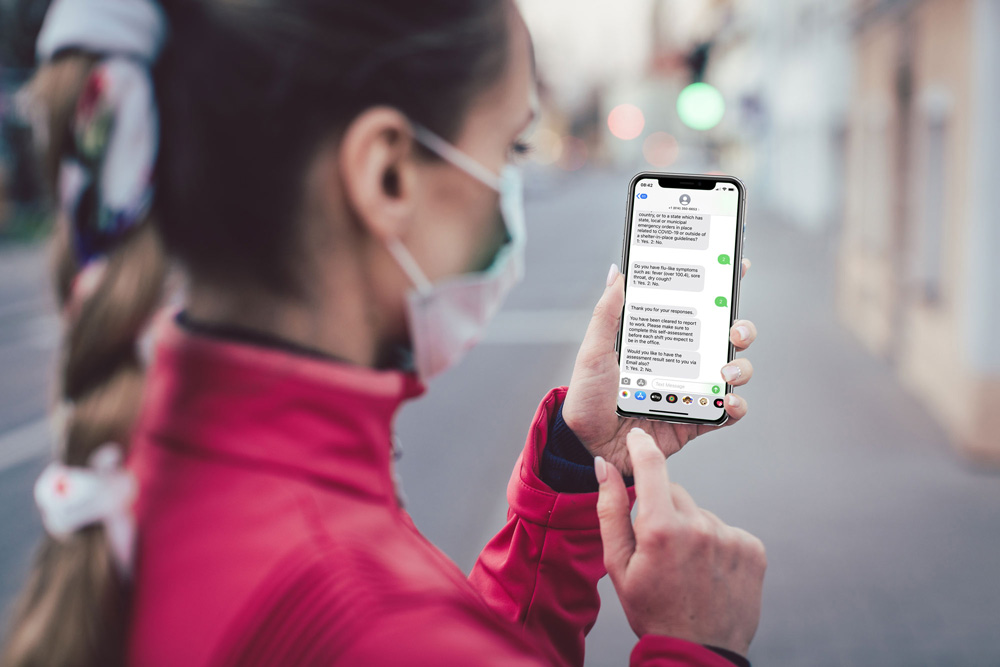 Employee health screening during the COVID-19 pandemic can help reduce community spread and make employees (and customers) feel more comfortable and safe. Here are some questions you may be asking as you continue to adjust how you do business:
1. Is employee health screening required?
Nearly all states require or strongly recommend using an employee health tracker. Some states require screeners only for certain industries, and some localities also require health screening for employees.  Also, OSHA now requires companies to document COVID-19 cases contracted at the workplace. You should follow the guidelines set by your government authority.
Employee health screening brings two main benefits:
It helps minimize the spread of infection at your workplace by asking people who are showing symptoms or have been exposed to COVID-19 to stay at home. CDC guidelines direct employers to actively encourage sick employees to stay home until they have recovered from COVID-19, or for at least 10 days since the onset of symptoms.
Equally important, employee health screening helps build confidence among employees that your business is taking the right steps to make your workplace safe.
2. Should I implement a paper-based system or a digital tracker?
This is up to you. Although, unless you're a very small company or have abundant data entry resources, here are five compelling arguments in favor of a digital solution:
It is much easier to administer employee health screening and provide an audit trail when your solution is digital. A digital health screener will be able to provide full reporting, trend reporting, and threshold alerts. You can set the alert so you get a notification, for instance, when someone fails a screening, or when more than 5 people at one location fail a screening.
Asking people to self-screen before they come to work each shift helps prevent sick people from showing up at the workplace.
You don't have to hire staff to screen employees upon their arrival, which slows entry into your facility and can cause crowding. You don't have to hire an employee to enter the data into a database manually.
Digital self-screeners come with added protections for privacy and HIPAA compliance. Plus, self-screening through a digital screener offers more privacy than answering questions in front of a human screener or on a sheet of paper, where other people may be within hearing/viewing distance.
You can use your health screener to communicate important information quickly through SMS. For instance, if you need to close your facility temporarily, or share a policy update, you can proactively send a text to your employees who self-screen through an app on their phone.
In the short video below, we show how a digital approach to employee health screening for COVID-19 is the simpler, more convenient approach for your workplace:
3. What questions should I ask in my employee health screening form?
The CDC and a few states offer questionnaire templates that you can use. Most screeners ask about symptoms with a strong correlation to COVID-19, such as fever, cough, shortness of breath, or sudden loss of smell and taste. They also ask about risk factors, such as if the employee has been exposed to someone with COVID-19, has been directed to self-isolate by a healthcare provider, or has tested positive for COVID-19.
4. Can employee health screening technology integrate with my internal systems?
Yes, digital screeners can integrate with your internal systems. There are two most common API integrations:
With your access system, so that employees who self-screen and are approved to work receive a QR or other unique code on their phones, which they can use to enter the building. This is one way to encourage participation and compliance with the screening.
With your HR system, so that self-screening results are stored securely alongside other protected health information.
5. What if employees lie about their exposure to COVID-19?
Self-screening is not foolproof, and it relies on people to accurately report on their symptoms and exposure. Your communication about the importance of self-screening to protect the safety of co-workers and your business community will go a long way to promoting participation. Some companies have found success when tying self-screening with a reward – such as a health system that dispensed daily PPE upon completion of the screener, or a business that created a fast-lane entry into the building for people who had self-screened before showing up for work.
In unprecedented times, companies must stay flexible to continue doing business while keeping communities safe. At Astute, we've created several technology solutions to support businesses during COVID-19, including our Employee Health Screening Chatbot. Learn more and see a quick demo here.