Making Sense of the 2019 Marketing Technology Landscape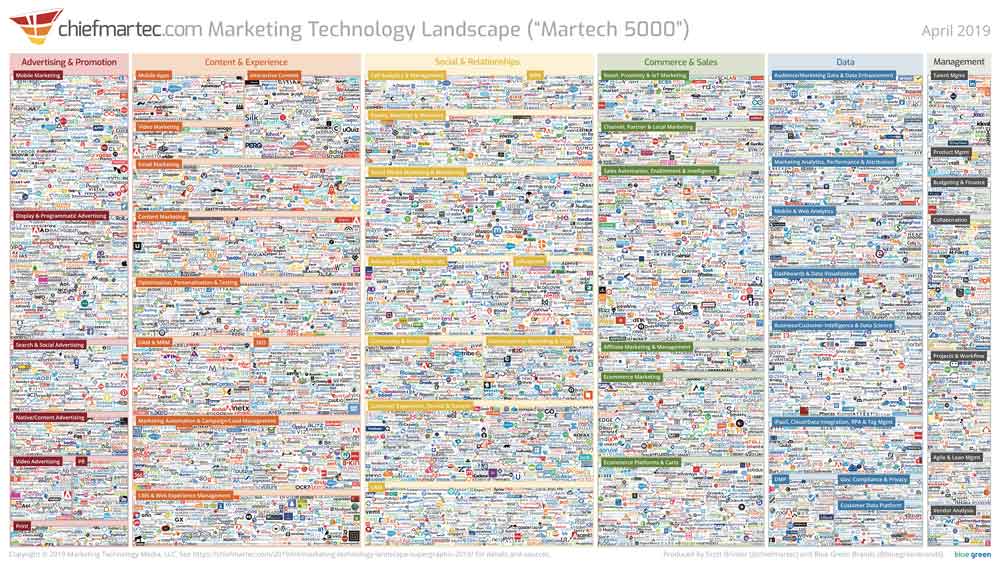 It seems more and more is being asked of Marketers nowadays. From content generation, social media management, even managing the Customer Experience, to name a few – it is easy to feel overwhelmed.
Thankfully, marketers nowadays have an embarrassment of riches when it comes to the technologies at their disposal to help them achieve their goals.
A study by Gartner found that in 2018, "Marketing Technology" ranked fourth in terms of how Chief Marketing Officers (CMOs) allocated their budget, behind "Labor", "Paid Media" and "Agencies".
In 2019? "Marketing Technology" has leapfrogged to first place. CMOs are now allocating 29% of their budgets towards marketing technologies. A study by Chief Marketer reflects this development, which found that 42% of B2B marketers expected their martech budgets to increase in 2019.
It is clear that brands, particularly ones looking for ways to better deliver exceptional Customer Experience (CX), are placing more importance on the role of marketing technologies in their day-to-day activities, and adjusting their marketing budgets accordingly. Plus, the ever-growing amount of martech on the market gives Marketers more options to address their everyday challenges.
Scott Brinker, Editor of chiefmartec.com, recently unveiled what he refers to as "maybe the most infamous slide in marketing" – the Marketing Technology Landscape.
This annual supergraphic helps marketers navigate the massive and continuously expanding array of marketing technologies available to them, and classifies them into 6 categories and 49 total subcategories: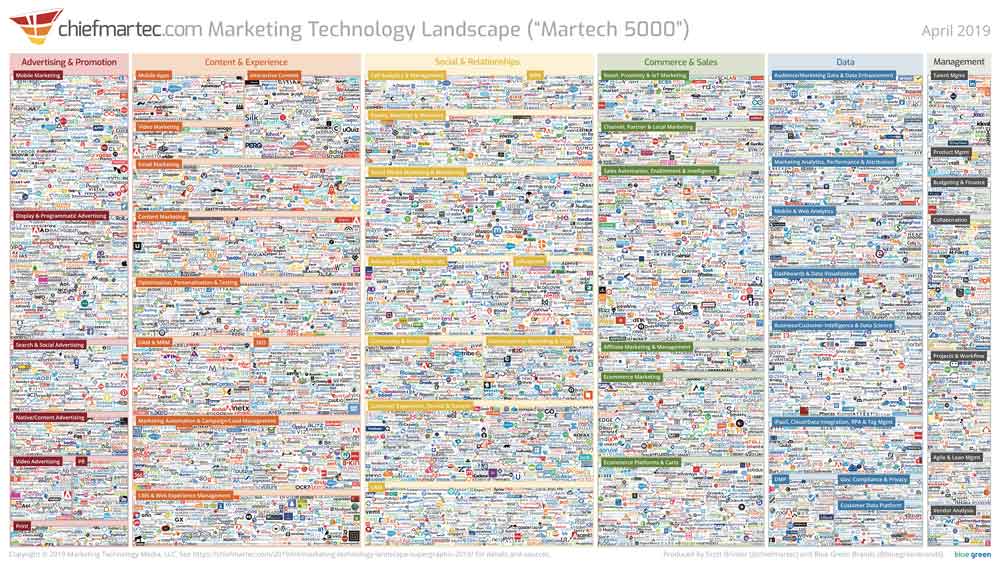 You can download the full Marketing Technology Landscape Supergraphic at chiefmartec.com.
What stood out in this year's landscape
The 2018 version of the chiefmartec.com Marketing Technology Landscape supergraphic included about 1,500 more solutions to reach a whopping 6,800. It also included the notable additions of the "Predictive Analytics" and "Compliance and Privacy" categories. The latter category highlighted just how much marketers' needs for these types of solutions have expanded in a post-GDPR world.
The 2019 edition of the supergraphic is night and day compared to last year's version, in that there were no massive changes, per se. However, what stood out is the count of solutions included in the supergraphic, which only increased by about 200 to reach 7,040, which represents the lowest increase since around the time the supergraphic was first introduced in 2011.
Should this be a cause for concern for marketers in terms of the martech available to them? Not necessarily, according to Scott Brinker.
Other than the resource limitations of putting this massive infographic together, Brinker explains how:
We may be shifting towards an upcoming "Second Golden Age of Martech", one in which there are more platform ecosystems where there is the "blending of software and services business models"
There is a growing number of apps being built within individual platforms' ecosystems, or are vertical-specific and go beyond the scope of the landscape.
As Brinker explains, the items above may mean that while we may have reached "peak martech landscape", we have not yet reached "peak martech".
Where there is a need, there is a way. With Marketers' responsibilities continually evolving and expanding, the martech being developed, and how it's made available in the marketplace, will evolve along with it.
In this flood of new martech, this year's supergraphic could suggest the shift towards marketers looking for solutions that help them address multiple needs in one place, as opposed to using different apps for different purposes. This presents an interesting vision into the future of martech as an essential part of marketers' arsenal moving forward, as they continuously search for that upper hand over their peers.
Why Voice of the Customer (VoC) is part of any complete martech stack
In the age of the Customer Experience, Digital Marketers and CX professionals alike need to be, well, customer-centric in their efforts.
What does that mean? Your customers' needs must come first. They must be at the heart of every key decision you make, especially when this decision may have reverberating effects on the Customer Experience.
For all the marketing technology out there (which there are literally thousands, as we have seen), customer feedback collected using a Voice of the Customer solution may provide the clearest way to monitor your customers' needs and determine what they expect from their experiences with your brand.
As importantly, VoC helps you better gauge just how customers perceive their experiences as they travel along their customer journey, which is extremely difficult to do by only looking at "what" they do.
When integrated with your other marketing technologies in your marketing stack like web analytics, session replay or your Customer Relationship Management (CRM) system, VoC helps Digital Marketers and Customer Experience professionals flesh out their customers and help them better understand what customers are thinking, and better inform their CX efforts.
See Astute's VoC solutions in action. Schedule a live demo today.
All trademarks and registered trademarks in this article are the properties of their respective owners.
Top image source: chiefmartec.com (Marketing Technology Landscape Supergraphic (2019)
The original version of this post was originally published on iperceptions.com and written by Philippe Aussant, Content Manager at Astute.