Product Updates: April 2018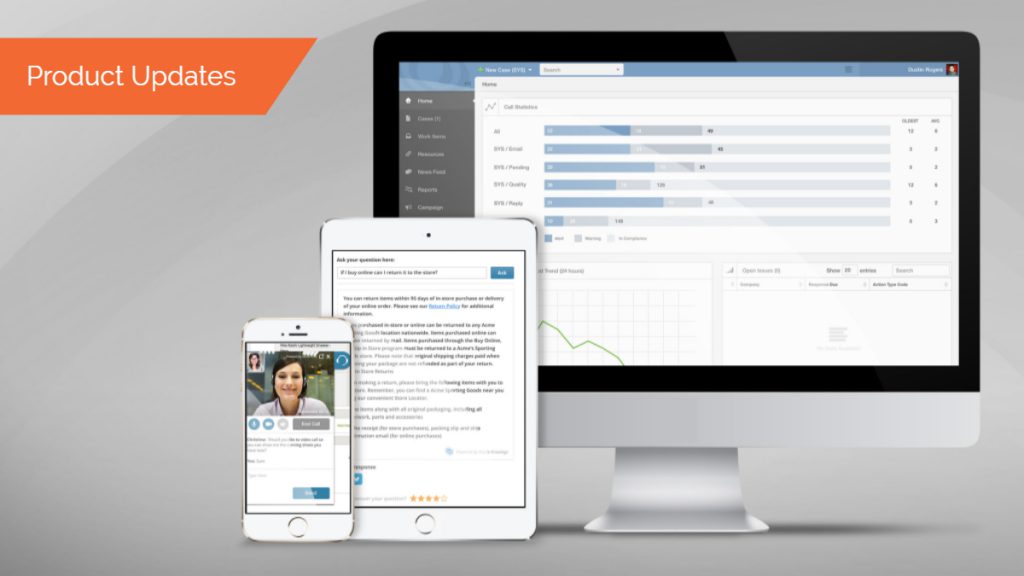 ePowerCenter
version 9.9 New Features
Category Code Search & Shortcut: Admins in 9UX can search for Category codes from the Application Menu or from the case. Maintain categories by using the shortcut [CTRL + M] with the cursor in the field you're focused on.
Toggle Work Clock: Agents in 9UX can manually start or stop the internal clock on a case for activities such as off-system work.

Astute Knowledge
New Add-On Feature
Recommendations and Attributes: Recommendations and Attributes can now be used to push content back and forth between the CRM and the Knowledgebase. Attributes can be any information known from a user being logged in to an application or website, or information from selections they've made previously. These attributes are indexed and searchable, and Astute Knowledge will learn over time in order to help rank information higher in relevancy to users. The knowledgebase is now able to make responses more personalized to the individual user/case. Using the Astute Knowledge non-technical authoring tool, you can easily assign these attributes to topics, define their values, and include them in knowledgebase responses.

Astute Social
New Features
Apple App Store Reviews: Astute Social now has the ability to crawl App Store reviews and include them in your feeds. Users can now monitor and respond to customer ratings and reviews about your branded app.

Astute Bot Integration: Escalate users from the Astute Bot platform directly to an agent in Astute Social. For example, when a customer asks Astute Bot a question that needs escalation to human support, it will notify your social media team that a customer's message needs their attention on Messenger. This is useful if you don't have ePowerCenter

 and use a CRM without live chat features. This integration allows you to still benefit by enabling users to escalate from virtual agent to 

human

 assistance. The customer case information is still captured within the CRM.

Mobile App Support: The Astute Social mobile app is now supported on the iPhone X.

Astute Bot
New Features
Multi-Language Support for Intent Editing: Edit your multi-lingual intents right inside the Astute Bot platform.
Unmatched Interaction Insights (Unmatched Utterance Insights): See what your users are actually saying that isn't being matched by your bot, allowing you to identify gaps and build your conversation flows based on actual user data.
Expanded Platforms and Integration: Astute Bot now supports Alexa (voice) and Cisco Spark (messaging), and can integrate with Astute Social and Astute SOS for escalation. You can use Astute Bot as an assistant to schedule meetings in a Spark room, or enable a Skill for Astute Bot to respond when a customer uses Alexa to order something or ask about nutritional information on one of your products.
Web Import: Astute Bot can now use existing website resources to do things like find

 the closest ATM, search for a product on a website and return results, or scan the FAQs to train the intent engine. You can now call query URLs in order to find specific information that is available on a website but not available via public API.

Astute SOS
New Features
Astute Bot Integration:

 

When authoring your chatbot, simple triggers can now be set up to escalate a chat session to a live agent in Astute SOS. The agent can receive contextual information about the customer and their interaction with the bot, providing a seamless customer experience between self-service and the live agent.