The Changing Customer Experience, Part 5: New Trends in Restaurants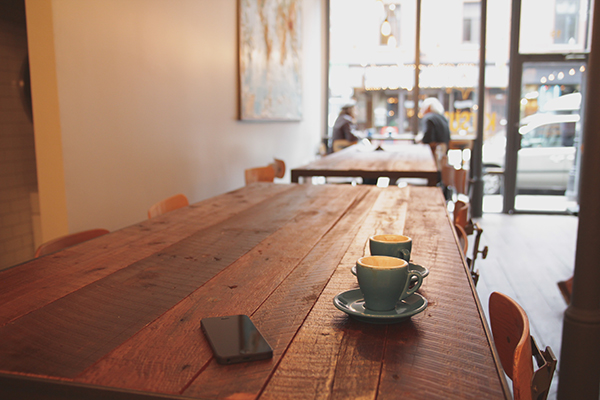 [Estimated read time: 6 minutes]
The U.S. restaurant industry is expected to post sales of over $780 billion in 2016 and employ over 14 million people (that's one in 10 working Americans). Yet around 60% of new restaurants fail within the first year and almost 80% within five years.
It's a volatile industry, where vocal opinions or changing preferences can make or break a business if it can't keep up. Here are four of the latest customer experience trends that restaurants need to know:
1. The "reputation economy" is changing the nature of restaurant reviews
In the past, becoming a top-rated restaurant meant impressing a small, elite group of diners. Ratings were based on a laundry list of criteria evaluated by experts, and reviews were handed out by respected connoisseurs. With the popularity of crowdsourced review sites and social media, though, everyone's a critic.
At the same time, customers are faced with too many choices for where to eat and need a way to pare the list down quickly. Ratings and reputation have therefore become more important than ever.
Review Sites
Consumers take the highly-arbitrary ratings on review sites at face value: 36% of diners factor in information from Yelp, TripAdvisor, and similar sites when choosing where to eat, and 80% trust online reviews as much as a personal recommendation. Once they narrow down the choices, they'll start reading the reviews. But if your restaurant doesn't have enough stars, it won't make the first cut.
A Harvard Business School researcher found that a one-star increase in a restaurant's Yelp rating correlated with a 5-9% increase in revenue.

And a study by the University of California, Berkeley, determined that establishments with an extra half star over local competitors were fully booked 1.5 times as often.
Social Media
Word-of-mouth buzz has always been a powerful force for restaurants, and social media has only amplified it. Over one-third of consumers use information on social media when deciding where to eat. There's plenty of information available: 22% of diners share positive information on social media and 12% share negative. Interestingly, the National Restaurant Association found that frequent social media users are also more frequent diners: 92% of them eat at a sit-down restaurant at least once a month, compared to 84% of all adults.
2. Mobile is becoming impossible to ignore.
Almost two-thirds of Americans own a smartphone, and one in five U.S. adults are dependent on them to access the internet. In other words, customers have already gone mobile, and it's time for restaurants to catch up.
Mobile Ordering
According to Forrester, mobile commerce transactions are expected to top $142 billion in 2016. The biggest players in the restaurant industry have seen great success with mobile ordering—for example, Starbucks processes over 6 million transactions per month, and 25% of Domino's sales come through mobile—and customers are starting to expect the option across the board.
While enabling mobile ordering takes a significant up-front investment, it can lead to higher loyalty and larger purchases. Consumers who have placed an order online visit 67% more frequently than those who haven't, and restaurants can see up to a 20% increase in the average ticket.

Mobile ordering also improves efficiency by reducing time in line and improving accuracy.
Mobile Payments
The National Restaurant Association (NRA) found that 20% of consumers with a smartphone now use a mobile app at least once a month to pay for a meal, and 6% do so at least once a week. Almost 40% of smartphone users would use mobile payment in restaurants if the option were available.
Among quick-service establishments, 43% offer mobile payment, and another 26% have plans to add it in the next year. In the fast-casual segment, 31% currently have a mobile option, and 26% plan to add one.
Data security is now a concern for any business, but mobile payment solutions take the burden off the restaurant operator. Laura Knapp Chadwick from the NRA explains, "Many mobile payment apps encrypt or scramble credit-card information before it ever reaches a restaurant's mobile payment acceptance terminal. This means hackers and criminals pose much less of a security threat. Because the customers' information is encrypted, it's one less thing restaurateurs need to worry about protecting on the back end."  
Mobile Loyalty Programs
Loyalty programs have always dealt with a dropout problem. Customers lose or forget their cards, or don't want to take the time added by the extra step in the checkout process. Mobile loyalty programs, especially when combined with mobile ordering and/or payments, erase these concerns, and are also more likely to be adopted:
Traditional loyalty programs: 5-12%

Mobile payment loyalty programs: 18-28%

Mobile payment loyalty programs + order ahead: 15-35%
3. Restaurant marketers are realizing the value of data
Marketers recognize the value customers place on a personalized experience, and they are putting more time and money into collecting the data they need to provide it. One survey found that 44% of restaurant marketers have a goal of increasing engagement, and 36% are working to improve segmentation and targeting. But that can only be done successfully if they have the right data to develop an in-depth understanding of the customer at any particular moment.
Mobile ordering, payment, and loyalty programs can play a big part in those efforts by allowing operators to track dining habits and use that data for personalization. When loyalty programs are tied to mobile payments, targeted incentives can help operators re-engage as much as 29% of lapsed customers. Across all restaurant-industry segments, spending increases 15% when customers redeem a loyalty incentive, and 72% when they stretch to reach their next reward.
4. Millennials are disrupting the status quo
As a whole, Millennials value quality over price and convenience, even for the quick-service segment. As CNBC puts it, "They're willing to pay a little extra for a burrito made with organic ingredients. So long as it still tastes good."
Younger consumers pay more attention than previous generations. And they expect restaurants to pay attention too—specifically to diet-specific ingredients, sustainability, and food sourcing and production. The National Restaurant Association points out the need for operators to "carefully balance how to cater to these precise tastes without becoming too niche or alienating more mature guests."
This savviness is leading to what Vucurevich Simons Advisory Group calls "the death of the chain restaurant as we know it." Millennial diners don't trust chain restaurants to consistently serve fresh, good food, and they have concerns about how employees are treated. So as a rule, they avoid chains in favor of local, independent restaurants. The burden is on the chains to prove they can be the exception to that rule.
How Astute Can Help
Astute's smart software is ideal for the fast-paced, customer-centric restaurant industry. Our social media management platform lets you hear everything your customers are saying about you so you can protect your reputation. Our CRM software integrates with your existing e-commerce solution so you can track dining habits and provide personalized engagement. And our knowledgebase and self-service solution makes sure consumers receive accurate, consistent answers across all channels.
We'd love to learn more about your business and discuss how we can help you succeed.