The Digital Customer Experience: Are You a Dinosaur or a Master?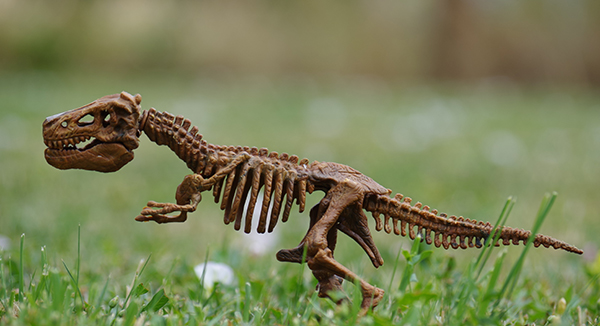 [Estimated read time: 5 minutes]
Digital touch points permeate every aspect of consumers' lives these days, so it shouldn't come as a surprise that expectations are very different than they were even a few years ago. Providing the right digital customer experience takes much more than just adding a virtual agent to your website or even creating a mobile app—you have to be ready to transform your business from a digital dinosaur to a digital master.
Digital Has Changed How Customers Behave
Even if your business isn't digital yet, your customers already are. By 2020, the number of global smartphone users will reach 3.6 billion. More than half the world's population will own one by 2017, compared with only 28% in 2013.
This nearly universal usage has fundamentally changed how customers experience products and what they value. As one Forrester report puts it, "We are entering an era of hyperadoption and hyperabandonment in which consumers flock to, and flock away from, new digital experiences at unprecedented rates."
The Definition of a Digital Business
Countless companies have added digital channels here and there in response to emerging trends in customer service, but those that succeed focus on creating value for customers and understand that technology is a means to that end. Truly digital businesses fully reinvent themselves to be less siloed, more agile, and completely customer obsessed.
Are You a Digital Dinosaur or a Digital Master?
You likely already know that you need to make this transformation in order to remain competitive and relevant. But if you're like most businesses, you don't know where to start: Only 27% of executives report that their firm has a comprehensive digital strategy in place.
Before you can identify the changes necessary to become a truly digital business, you need to figure out where you are now. Forrester has put together an interactive tool to assess your current capabilities and help you demonstrate the importance to your senior stakeholders. Using the tool, you can determine which category you fall in:
Digital Dinosaur: You need help beginning your transformation.
Digital Connector: You understand digital customers but don't operate digitally.
Digital Operator: You create digital efficiency but don't focus on the customer experience.
Digital Master: You excel at digital thinking.
Of the more than 100 companies that have taken the assessment, surprisingly only a handful have rated themselves as Digital Masters. In fact, most U.S. and European executives rate their firms as Digital Dinosaurs. They see the need to improve, but they face significant challenges.
Creating a Digital Customer Experience
Digital is more than a channel—you won't succeed by just adding a digital option to each touch point. Instead you need to look at how to digitize your end-to-end customer experience. Use journey mapping to understand your customers' behavior and then apply the right digital solution where it can add the most value.
Creating a digital customer experience doesn't happen on its own. You first need to make company-wide changes to transform your traditional business into a digital business that has the agility to keep up with constantly shifting technologies, changing customer expectations, and trends in customer service management. CMOs, CIOs, and eBusiness professionals must all work together to change the organizational culture, break down silos, adjust resource allocations, and define new metrics.
Bringing IT into the Fold
IT functions are a critical piece of the customer experience, but they haven't historically been viewed that way in many companies. As a result, the department has been disconnected from the organization's goals. Forrester suggests several ways to ensure that barrier is removed:
Make customer feedback the primary metric of success.

Connect app performance to customer experience.

Partner IT with marketing to improve the customer journey.

Partner IT with eCommerce to enhance content delivery.

Partner IT with business operations to support customer-facing employees.  
The Challenges of Digital Transformation
Less than a quarter of executives believe they have the skills to deliver a digital customer experience. Given some of the challenges involved in the process, their hesitation is understandable.
Digital "Bolt-Ons"
By this point, every company has incorporated some level of digitization, even if it's just a basic eCommerce site. But very few have added digital touch points in the context of a larger strategy, instead they've bolted a gadget or tool onto the existing business. While each of those individual projects may have shown success, the result is technical chaos that can undermine the customer experience.
Ownership
Determining who owns the digital experience can be a political minefield, and many companies end up leaving the role undefined. That indecision only reinforces existing silos and creates false competition. A true digital transformation must be company-wide and co-owned by marketing, IT, and eBusiness.
Customer Migration
Even those businesses that have successfully designed and implemented a digital experience face challenges. Many have trouble educating customers and encouraging them to try the new channels. Fewer than 20% of companies have a migration strategy with sufficient detail, such as defining which clients to target or determining how to clearly communicate their digital value proposition. And almost 60% have little or no budget to, for example, provide incentives for switching or monitor migration performance.
How Astute Can Help
Astute can help you digitize your entire customer experience and keep up with emerging trends in customer service with our suite of integrated consumer engagement software:
CRM solution

Knowledgebase with digital self-service

Social media management platform

One-click escalation tool
Read our case study to learn how we helped McDonald's—as well as many other brands—become truly digital businesses.