10 Hurdles to Effective Voice of Customer Research (and How to Clear Them)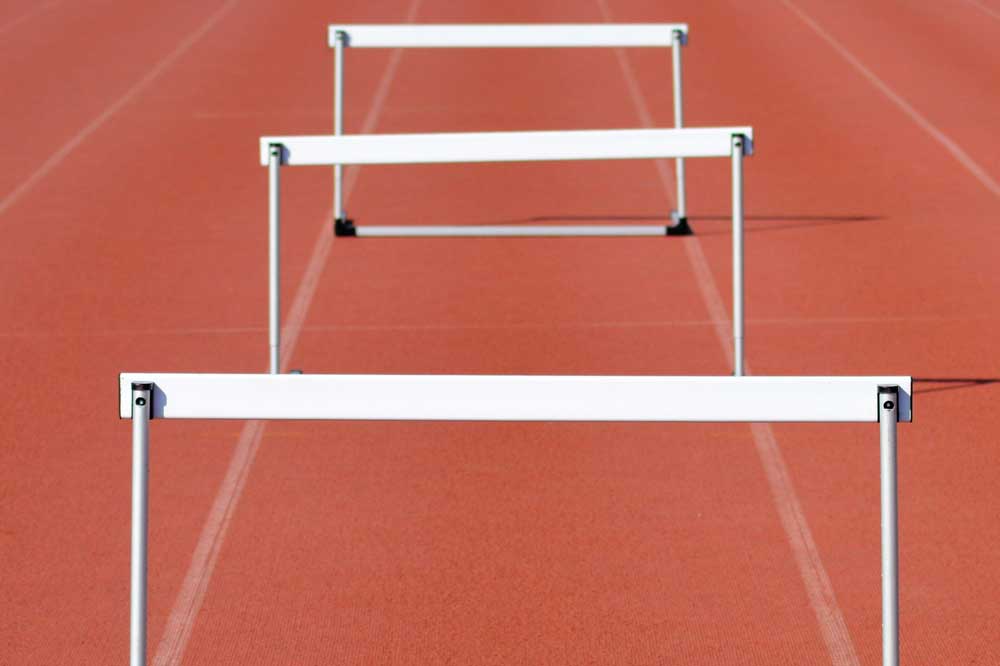 Voice of the Customer (VoC) research is an integral part of the customer-centric organization's toolkit. But like any other initiative, it requires clearing some hurdles along the way for it to be successful.
From when you start designing your Voice of the Customer surveys to when you start acting on your customer feedback, every component of your VoC research plays a significant role in its success.
Let's look at ten common hurdles you will encounter with your Voice of Customer research that, if not cleared, could impact how effective it can be when informing your Customer Experience (CX) strategy.
We'll also look at how using a flexible SaaS platform supported by seasoned VoC experts can give you the bounce you need to clear them.
Voice of the Customer Research Design Hurdles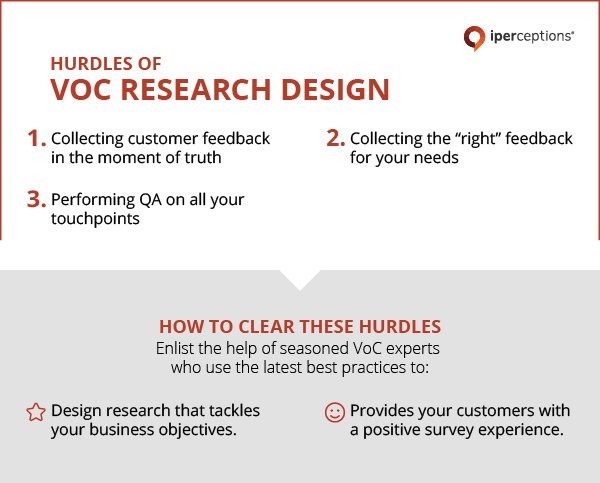 Hurdle #1: Collecting in the moment of truth
If you are reading this, you probably already know about the importance of collecting your customers' feedback in the "moment-of-truth".
However, it still bears repeating here. You should not wait too long after their experience to ask customers for their feedback, to ensure the experience is still fresh in their mind.
Otherwise, this hurdle stands in the way of receiving the targeted, timely, and actionable feedback you need to get true value out of your VoC research. That is especially true for negative feedback that requires immediate follow-up (see: closing the feedback loop).
Hurdle #2: Collecting the "right" feedback for your needs
When it comes to engaging your customers for their feedback, no two Voice of the Customer methodologies are created equal.
How you engage customers for their feedback, how you phrase your questions, the survey interface you use – many factors can impact whether you collect the "right" feedback you need to:
Accurately inform your CX strategy.

Promptly inform your client-facing teams with actionable feedback they can use to improve individual experiences.
Hurdle #3: Performing QA on all your touchpoints
Your VoC research is an extension of your brand. As such, you want to make sure everything works bug-free and offers a positive survey experience.
Although, if you have a small team, you may not always have the resources to test every aspect of your VoC research. That includes making sure:
The survey(s), survey invitation(s), comment card(s) appear without issues on your site/mobile app/email/etc.

The skip logic and branching works properly in the survey

Everything works properly on different devices (Desktop vs. Mobile), iOS vs. Android apps, screen sizes, etc

.
How you can clear these VoC Research Design hurdles
Leverage VoC experts who work with you to design and test your research using the latest best practices. That will give your VoC research the solid foundation it needs to provide you with the insights you need to tackle any business need.
Voice of the Customer Research Management Hurdles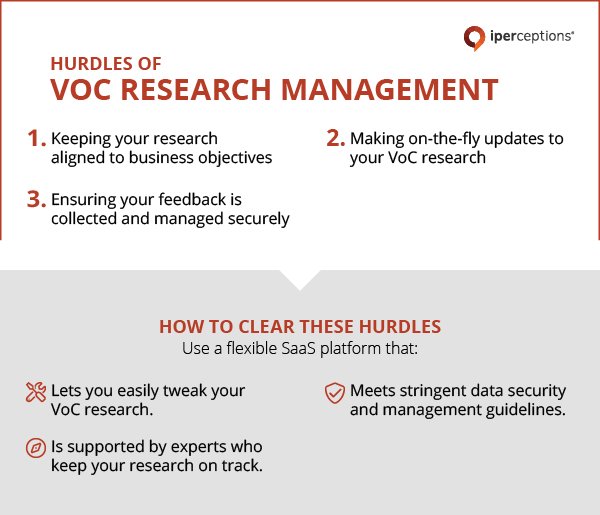 Hurdle #4: Keeping your research aligned with your business objectives
Your VoC research should evolve (e.g., tweak existing surveys, launch new ones), alongside your business needs.
Strong governance is needed to keep your research on track over the long run. Otherwise, it's easy for your research to become confusing, bloated, and/or misguided over time, and not give you all the benefits you had envisioned for your research.
Worse, it could result in poor survey experiences that reflect poorly on your brand.
Hurdle #5: Making on-the-fly updates to your VoC research
A more technical hurdle that stands in the way of making changes to your VoC research? Having to jump through a bunch of hoops every time you need to make a tweak to your research, big or small.
For example, it is very inconvenient to go through your IT department or wait for code releases every time you want to tweak your research, like launching a new survey, for example. That can result in unnecessary and frustrating delays, especially if you need to make changes quickly.
Hurdle #6: Ensuring your feedback is collected and managed securely
A critical hurdle, particularly in today's climate.
How your customers' feedback is collected, how it is stored, Personally Identifiable Information (PII), GDPR compliance.
You are already sifting through your customers' feedback to extract insights you can use to boost your CX efforts. The last thing you should have to worry about is whether that feedback is actually being managed securely to the latest regulations and guidelines.
How you can clear these VoC Research Management Hurdles
Make sure to use a flexible SaaS platform that:
Lets you easily tweak your VoC research when it is already running.

Meets stringent data security and management guidelines.

Is supported by VoC experts who keep your research on track

.
Voice of the Customer Research Analysis Hurdles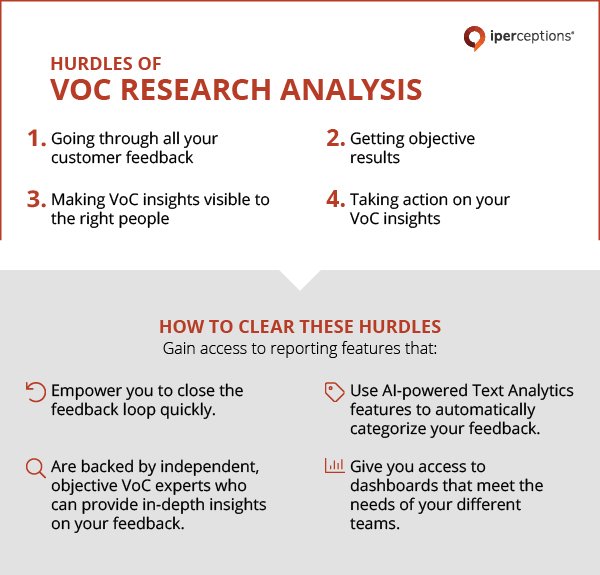 Hurdle #7: Going through all your customer feedback
You are now collecting customer feedback. Now comes the part where you must sift through it to pluck out insights you can use to improve the customer experience.
However, this can become a time-consuming exercise, especially if you are collecting:
Large quantities of surveys that contain…

Ample amounts of unstructured/open-ended feedback

.
Finding the time to sift through your feedback manually, and regularly, can be tricky when you want to uncover key themes and trends among your key customer personas.
Hurdle #8: Getting objective results
An important hurdle to jump over to get accurate and useful insights from your VoC research is the objectivity of its results. A reality for any organization is that personal agendas can sometimes influence how data is interpreted.
Not leveraging independent experts to manage the VoC research design and analysis may make an organization susceptible to this hurdle, and in turn, influence the insights you take away from your VoC research and apply to your CX strategy.
Hurdle #9: Making your VoC insights visible to the right people
The Customer Experience is an organization-wide initiative, and so naturally, customer feedback should not be kept within one department. It needs to be in front of the right people in your organization at the right time.
That means getting these insights in their hands in a way that makes it easy for them to make sense of the data and act on it.
Which leads us to the next hurdle…
Hurdle #10: Taking action on your VoC insights
Now that you have insights that help you understand your customers' need and expectations, and how they perceive their experiences, it's time to act on them.
The true value of customer feedback is how you act on it to deliver great experiences across the customer lifecycle (and the benefits that can result from them). So, whether it is to inform your overall CX strategy or to empower your client-facing employees to improve the individual experience, your VoC insights cannot sit idle in datafiles and dashboards for your VoC research to be considered successful.
How to clear these VoC Research Analysis hurdles
Leverage a SaaS platform that:
Detects poor experiences in real-time and helps you close the loop quickly and effectively.

Uses AI-powered Text Analytics reporting features that automatically categorize open-ended feedback by topics and sentiment.

Is backed by independent and objective VoC experts who can sift through and provide in-depth insights from your customer feedback

.
Flexible Platform + Seasoned VoC Experts = VoC Research Success
VoC research is a must-have for any brand wanting to improve the CX. However, it is a living, breathing initiative with a lot of moving parts that can impact its success.
Make sure to leverage a Voice of the Customer solution that gives you access to a flexible Enterprise-class platform backed by seasoned experts who can help you jump over any VoC research hurdle.
This article was originally published on iperceptions.com.
Top image source: Interactive Sports on Unsplash