What Makes a Successful Facebook Ad (Plus 5 Real-World Examples!)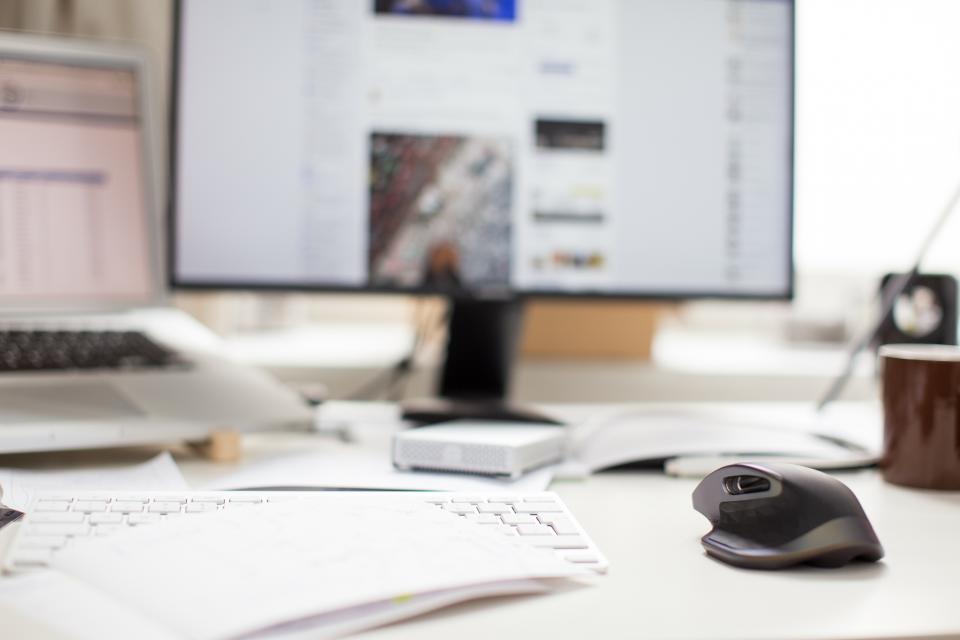 [Estimated read time: 12 minutes]
The best social media campaigns all have something in common — several things, actually. But what?
In our latest blog series, we're taking a look at what makes a successful ad on the three most popular social networks: Facebook, Twitter, and Instagram.
Let's start with the biggest social network of them all, Facebook.
Why advertise on Facebook?
It's no secret that Facebook represents huge opportunities for advertisers. According to the Pew Research Center, 70% of U.S. Facebook users log into Facebook daily. For half of users aged 18-24, it is literally the first thing they do when they wake up in the morning.
However, the space is also a crowded one — organic reach for brand pages is just 2%, and declining. Faced with this challenge, marketers are exploring Facebook advertising to get their message in front of a larger audience. In fact, between 2014 and 2016, Facebook's quarterly ad revenue more than doubled.
Is Facebook advertising right for your brand? Consider the following pros and cons…
Pros of Facebook ads
1.86 billion monthly active users, and counting! There is a vast and growing audience primed to receive your brand's message.
Sophisticated targeting options. Facebook allows advertisers to target users based on a variety of demographic and interest-based factors. They also give companies the options to advertise to Custom Audiences (based on a list of your existing customers) and Lookalike Audiences (users Facebook considers to be similar to your current fans, customers, site visitors or mobile app users).
Support for different social media campaign objectives. Whether you're trying to create awareness, motivate consideration, or drive conversions, Facebook ads can be tailored to support those goals.
Perfect for visual content. Videos, GIFs, and images dominate News Feeds. The visual nature of the platform makes it a great fit for consumer brands, although B2B companies can stand out as well using compelling content.
Cons of Facebook ads
Rising prices. As the popularity of Facebook ads has increased, so have the costs. Each of your social media campaigns should have a clearly defined set of goals and metrics to ensure you're getting your money's worth.
Proving ROI. Because there are different objectives that can be supported with Facebook ads, different ROI calculations come into play. For instance, while it may be fairly straightforward to measure ROI when the ad's objective is e-commerce sales (revenue vs. ad spend), it's not as cut-and-dried with ads designed to drive brand awareness. Again, it is critical to agree upon your goals and metrics before launching an social ad campaign.
Competition for attention. Your competition in social advertising is very different from your competition in real life! Not only are there other advertisers to contend with, you're competing with memes, funny cat videos, photos of cute babies and dogs, and all the other thoughts, opinions, and moments that people share on Facebook.
What makes a successful Facebook ad campaign?
To take advantage of the above pros (and mitigate the cons), there are several items you should consider when creating a Facebook ad.
First, decide which type of Facebook ad you want to use. There are three types of Facebook ad placements, shown in the image below: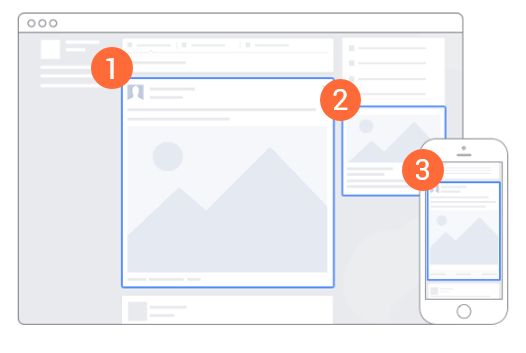 1. Desktop News Feed: An extremely popular format with advertisers that embrace native advertising. These ads seek to fit into the natural flow of News Feed content (all the memes, cute babies, and possibly even cute baby memes) while also grabbing attention as users scroll.
2. Right Column: The original Facebook ad format, shown only on desktop. This option typically offers a lower cost-per-click. And since there are a limited number of right column ads shown at a time, this format could help your brand stand out from the noise.
3. Mobile News Feed: With 1.15 billion mobile daily active users, Facebook is a major player in the mobile advertising game. So it's no surprise that the mobile news feed is quickly becoming popular with advertisers!
For your campaign, you may choose to use some combination of the formats above. Keep in mind that, while your campaign imagery and messaging can (and should) be consistent across formats, you may need to adjust certain elements to account for each format's unique properties and specifications.
Once you've decided which Facebook ad formats will work best for your social media campaign, make sure to include these five components of great Facebook ads:
Well-targeted: Facebook knows a lot about its users, and their robust audience targeting options allow you to create hyper-targeted campaigns. Take advantage of Facebook's strength in this area to tailor your creative and messaging to resonate with targeted audience segments.
Relevant to your audience: For every audience you target, think about how your ad's offer, imagery, copy, and call-to-action are relevant to them — not just in general, but also in the moment they will see your ad (most likely scrolling through their News Feed). For example, if your target audience typically eats lunch at noon on weekdays, advertising a lunch deal on weekday mornings would be much more relevant than a generic brand message.
Compelling creative: Facebook has become a video-heavy platform, and advertisers are taking note. Videos and images are more successful in grabbing your audience's attention. And as with any ad, copy matters — while the visual captures attention, the copy must drive home the point of the ad. 
Clear value proposition and call-to-action: Your ad should answer two questions for your audience: why should they care, and what should they do next? Make it clear to them why your product or service is worth their consideration, and guide them to the next action. Facebook's call-to-action buttons are especially helpful in this endeavor.
Adaptable based on real-time results: Social media is all about immediacy. It's a smart idea to adjust ads based on real-time social insights.
With these components in mind, let's take a look at Facebook ads from five different brands, and examine what made them great.
Examples of great Facebook ads — and what they did well

Example 1: Ford Motor Company
In their "Uphold the Upholstery" video ad, Ford shares a useful tip for removing common wintertime messes like mud, water spots, and salt stains from your car's upholstered seats. 
What Ford did well
Compelling creative: A professional, creative video catches the user's attention as they scroll through their News Feed. The video keeps the user's attention and, at 25 seconds, conveys the information quickly and effectively.
Relevant: Whether or not viewers of this ad actually drive Ford vehicles, the solution shared in the video is still relevant and useful — hallmarks of great content marketing. And the advice offered in the ad is timely: by early March, everyone's car has a season's worth of wintertime water spots and salt stains!
Clear call-to-action: The ad asks users to like Ford's page and share the video with their friends, driving engagement and building positive brand associations. 
What you can take away 
These types of demonstration/life hack videos are extremely popular on Facebook and entertaining to watch. Ford capitalized on a native trend, earning likes and shares by offering useful content. Ostensibly, the ad has nothing to do with selling cars. But by providing useful and timely information, Ford is strengthening its social media presence and creating positive sentiment about their brand. Is there a similar demo or life hack video that would make sense for your brand to share?
Example 2: Rent the Runway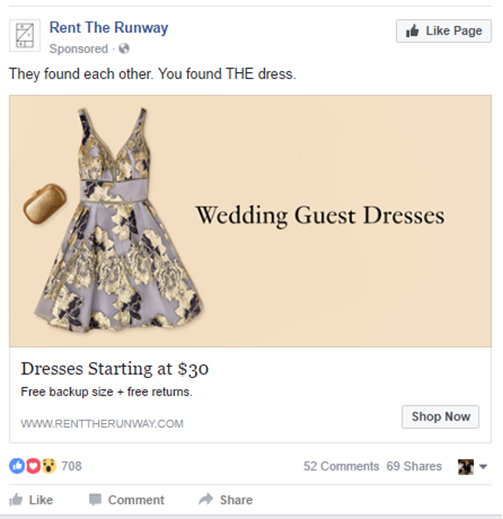 Many of you reading this post will be able to commiserate: you buy something stylish to wear to a wedding, knowing you'll probably never wear it again. In this ad, Rent the Runway offers a simple solution to this exact dilemma.
What Rent the Runway did well
Accurate targeting: This ad, targeted to someone here at Astute, correctly matched up the offer with the user's needs — she's in that stage of life when many of her friends are getting married, and she needs something different to wear to all those weddings! (No exaggeration, she attended six weddings last year.)
Relevant: The timeliness of this ad is spot-on. Spring is right around the corner, and that means wedding season will soon be in full swing. 
Compelling creative: This ad's copy and design is simple, yet effective. The copy shows a bit of the brand's personality and resonates with the reader in the least amount of words possible.
Clear value proposition and call-to-action: Starting at $30? Free returns? Shop now? How could you not click on that?
What you can take away
Sometimes, simpler is better. This ad wastes no words in conveying value to its target audience and compelling them to take action. What life events or unique problems could your product address for a specific audience? And — here's a challenge — can you communicate your value proposition in fewer than 25 words?
Example 3: Home Chef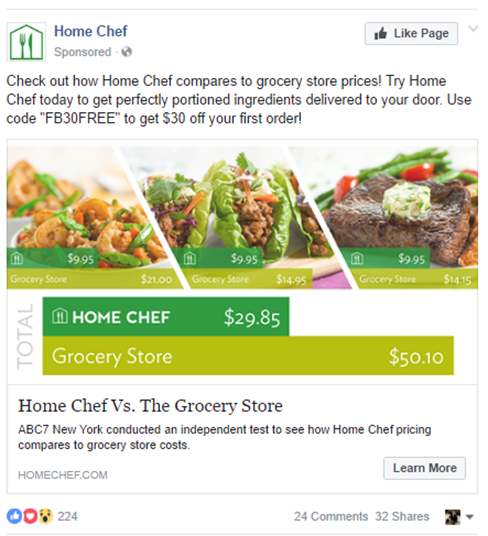 Although relatively new, the meal prep subscription services market is rapidly becoming crowded. Not only is Home Chef competing with the likes of Blue Apron, Plated, and Hello Fresh, they're also competing with that most formidable of opponents, the status quo — in this case, the grocery store.
What Home Chef did well
Relevant: Whether intentional or not, this ad was served on a weekday in the late afternoon, right around the time when working adults are starting to think 1) what are we going to have for dinner, and 2) when do we even have time to make it? For Home Chef's target audience, this ad draws their attention to that pain point and simultaneously offers a solution.
Compelling creative: It seems everyone is a foodie these days… Pictures of delicious-looking food are all over Facebook News Feeds. In this ad, Home Chef leverages the platform's obsession with visuals to showcase their meals. They are also using bar charts to combat a common objection to their service: the concept that it is cheaper to shop at the grocery store. The copy calls out that their comparison data comes from "an independent test" from ABC7 New York, adding validity to their claim.
Clear value proposition and call-to-action: The value here is clear. The ad communicates to the audience that they can prep great food more quickly and more cheaply than shopping at the grocery store. To drive new subscriptions, they offer a promo code for $30 off.
What you can take away 
Home Chef used a variety of tactics in this ad that you could replicate. First, they crammed a ton of information into their visual, combining objection-crushing data with tasty-looking dishes. They add validity to their comparison by citing an independent data source. And they entice viewers to take the plunge by reducing the risk of taking action (i.e. offering a promo code). What visual could your brand create that would quickly dispel common misconceptions or objections about your product? What data can you use to support the claim? Lastly, what offer will motivate your audience to take the next step?
Example 4: Glossier
In this ad, up-and-coming cosmetics brand Glossier demonstrates their blush product, Cloud Paint, in a fun, stylish, fast-paced video.
What Glossier did well
Accurate targeting: Not only was this ad shown to a young woman (a target demographic for any cosmetics brand), it was shown to someone who had purchased a different Glossier product in the past. Was Glossier using Facebook's Custom Audiences feature to specifically target current customers? Entirely possible, and a great example of how effective this tactic can be.
Compelling creative: Videos are arguably the most powerful ad medium for Facebook. Because videos auto-play on mute as users scroll, many brands create videos that demonstrate an idea or product without any dialogue at all. Glossier's ad is a perfect example, displaying the different colors of blush, demonstrating how to apply it, and showcasing the final effect — all while remaining consistent with their brand's identity of enhancing natural beauty.
Clear value proposition and call-to-action: Both the copy and the video clearly communicate what differentiates Glossier's product from others: it's easy to use and looks natural. Their use of the "Shop Now" call-to-action button gives the audience clear direction as to what they should do next.
What you can take away 
Glossier took the idea of a product demonstration video to a new level, highlighting product options, showing off differentiators, and reinforcing their brand identity — all within the span of 37 seconds. Is there something about your product you could visually demonstrate in a similar way, while staying true to your brand identity?
Example 5: Waterford Lux Resorts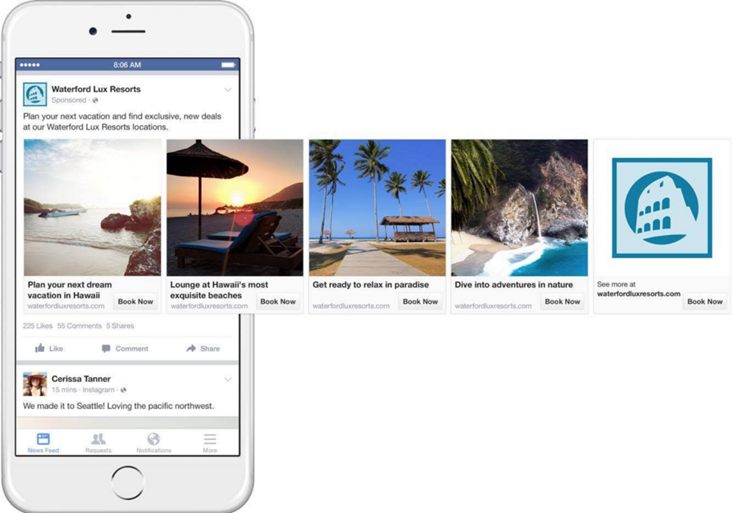 In this mobile carousel ad, Waterford Lux Resorts showcases their exotic vacation destinations.
What Waterford Lux Resorts did well
Compelling creative: Waterford Lux deserves extra points for using a unique feature of News Feed ads, the carousel. This option allows users to swipe or click through different images, offers, and products. Waterford also leveraged a natural advantage of the resort locations they're promoting — they're in Hawaii, one of the most beautiful places on earth. On such a highly visual platform, beautiful photographs and imagery help brands stand out.
Clear value proposition and call-to-action: In their ad copy, they emphasize new and exclusive deals, giving their audience a reason to click through. They make it even easier by using Facebook's "Book Now" call-to-action button on every image in the carousel.
What you can take away 
Waterford Lux Resorts' ad played to their own strengths and the strengths of Facebook's ad platform. When you have multiple options to showcase — be they travel deals, footwear styles, menu choices, etc. — leverage Facebook's carousel option, which plays especially well on mobile devices. But always keep in mind what will happen after users click your call-to-action, ensuring the user experience is just as smooth on mobile as it would be on desktop.
Now it's your turn!
Using these examples as inspiration, it's your turn to create well-targeted, compelling, relevant, and actionable Facebook ads. And remember to incorporate real-time feedback to adjust mid-stream. 
One last piece of advice: messages are stronger when they are cross-promoted across multiple platforms. To support your social ad strategy, use a comprehensive social media management tool like Astute Social. The platform will allow you to manage creative, budgets, testing, and analytics for social media campaigns across Facebook, Twitter, and Instagram. It also includes tools for social listening, engagement, and publishing.
Already using Astute Social? Contact us to learn more about our ad management options.
To learn more about social ads, check out the other installments of this series, covering Twitter and Instagram ad best practices.
Related Content