What You Can Learn from These 9 Amazing Instagram Ads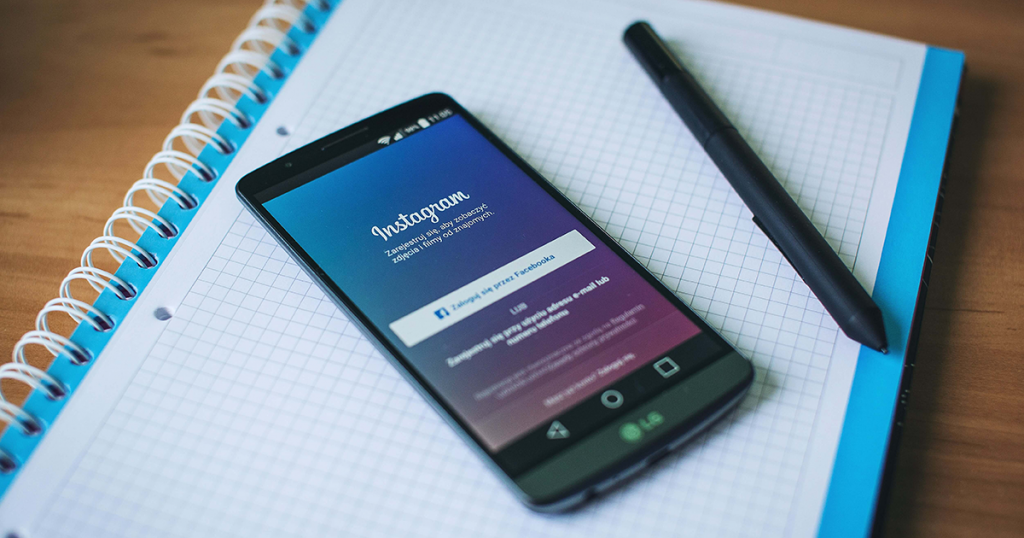 [Estimated read time: 12 minutes]
As brands continue to see organic social media engagement rates plummet, more marketers are turning to social media advertising to gain traction. In this three-part blog series, we've already covered the basics of advertising on Facebook and Twitter. Now it's time to turn our attention to the popular photo-sharing platform, Instagram.
Why advertise on Instagram?
With 400 million daily active users, Instagram is an appealing channel for any brand — especially those that want to capture the Millennial and Gen Z markets. In fact, 90% of Instagram users are under 35.
However, Instagram has not always been the easiest platform for advertisers to use. Up until a few years ago, brands who wanted to gain exposure on Instragram had to rely on influencers to sponsor their products through their posts. Now, under Facebook's ownership, brands can promote their products using the same options as Facebook ads.
Is Instagram advertising right for you? Take a look at the pros and cons…
Pros of Instagram ads
Advertiser toolkit: Instagram offers all the same options and benefits of Facebook ads, including robust audience targeting, bidding tools, and various campaign objectives depending on the goal you want to accomplish (awareness, conversion, site visits, and so on).
Growing audience: The platform has a large and growing user base of young consumers, boasting an average monthly follower growth of 16%.
Better engagement: Brands report that they receive higher engagement on Instagram than on any other platform.
Calls to action: With customizable call-to-action buttons, such as "Shop Now" and "Download," advertisers can drive (and track) specific actions depending on their goals.
Cons of Instagram ads
Competing for attention: Like any native advertising campaign, advertisers on Instagram are competing for mind share with posts from other advertisers, as well as celebrities and other social media personalities. Not to mention all the stunning photos of food, exotic locations, adorable babies and pets, etc.
Judgement from users: Instagram users are notorious for being able to spot anything that smacks of inauthenticity, and they will not hesitate to call your brand out.
Amazing creative a must: At its core, Instagram is a photo-sharing platform. Most social networks are heavily visual, but Instagram operates on a whole other level. Brands who want to promote their product on this platform must bring their visual A-game.
What makes a successful Instagram ad campaign?
The best Instagram ads are successful because, frankly, they don't much resemble traditional ads. Advertisers would do well to stick with a "uniquely Instagram" design aesthetic. You'll also want to think about which ad format makes the most sense for your campaign. Instagram ad formats include:
Single image: The most popular and familiar format
Carousel: Multiple images users can swipe through
Video: As with other platforms, video sharing on Instagram is becoming increasingly popular
Stories: Instagram's answer to Snapchat, introduced in August 2016, allows users to share photos and videos that will disappear after 24 hours
Before you get started, consider these Instagram ad best practices. A successful Instagram ad should have these 6 components:
Stunning imagery: Remember, you'll be up against some serious visual competition on this photo-sharing platform! Images must capture attention and convey your message in an instant. For videos, keep them brief — and focus on drawing in the viewer within the first 30 seconds.
Snappy copy: Just because you can include more than a tweet's worth of text with your Instagram post doesn't mean you should! Short, attention-grabbing copy with appropriate use of hashtags will be your best bet.
Accurate targeting: Instagram users do not have the generational diversity that other social networks do, so be sure to hone in on other demographic and psychographic attributes that matter for your campaign.
Reason to click: Align the ad's call-to-action with the campaign objectives, and give users a compelling reason to click through.
Authentic and experience-oriented: Instagram users can spot inauthenticity from a mile away. They also tend to care more about experiences than possessions, so focus your creative and your message around an experience more so than a product.
Adjusted in real time: Social media happens in the moment. Make sure your social ad management tools and processes are set up to be able to make on-the-fly adjustments when needed.
With the above six components in mind, let's take a look at 9 brands who created awesome Instagram ads, and what you can learn from each.
Examples of 9 brands that rocked it on Instagram — and what they did well
Example 1: Levi's
In a textbook example of a sponsored Instagram post, Levi's combines a gorgeous nature photo with a model wearing an iconic denim jacket. They're promoting their Station to Station cross-country traveling art project, a joint effort with artist Doug Aitken.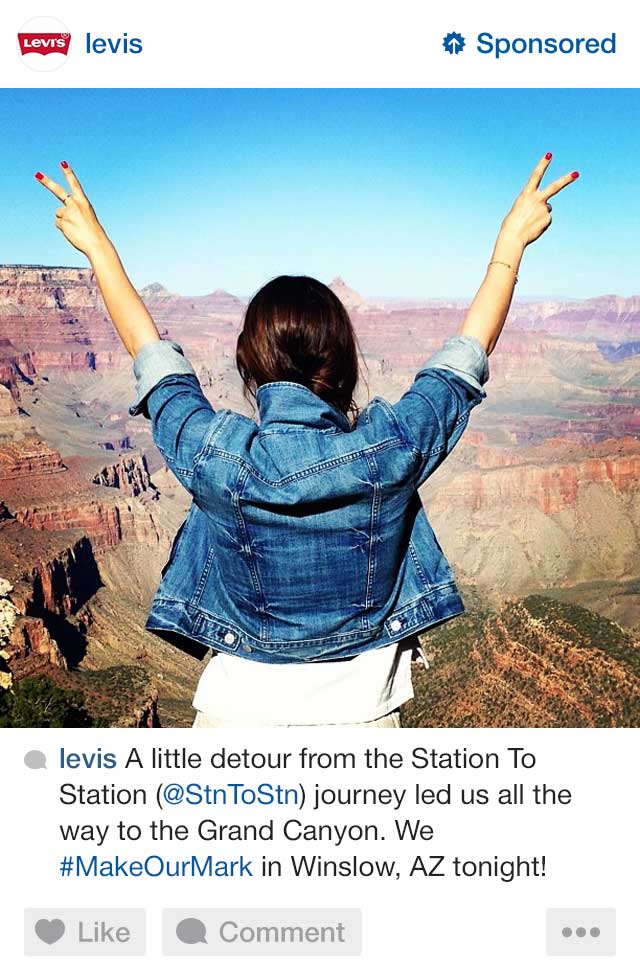 What Levi's did well
Imagery: Levi's used a breath-taking photo of the Grand Canyon as the backdrop for this ad. Although we can't see the Levi's logo on the denim jacket, you know it's their product. The image evokes associations between the Levi's brand and a feeling of freedom and adventure.
Experience-oriented: This composition is focused on an experience and a feeling — the product itself is secondary.
Copy: The short caption reads more like a travel journal than a product promotion, calling attention to the Station to Station project as its primary focus.
What you can take away
Take a leaf out of Levi's book, and find a natural way to integrate your product into an eye-catching photo, almost like a work of art illustrating the kind of experience you want your audience to associate with your brand. Don't be afraid of a more subtle approach.
Example 2: T-Mobile
In this carousel ad, T-Mobile promotes their unlimited talk and text plans that cover the US, Canada, and Mexico.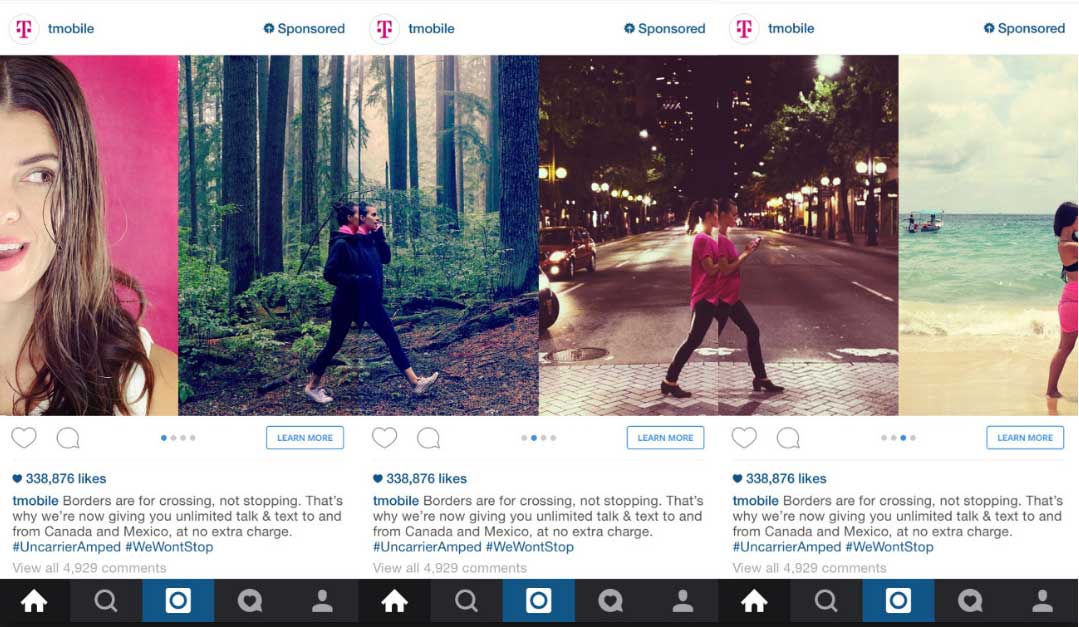 What T-Mobile did well
Imagery: In this extremely clever use of the carousel format, half of each photo appears on each screen, compelling the user to swipe and move through the journey. The photos themselves even represent a journey, reinforcing the overall message of the ad. Bonus points to T-Mobile for managing to get at least a splash of their signature pink color in every image!
Copy: In just a few lines, T-Mobile reinforces the message presented by the images: forward movement, a journey across some border. Plus, the copy doesn't overdo it with the hashtags.
What you can take away
The carousel format presents advertisers with a lot of opportunity. Use it to illustrate a story, show a progression, display a panoramic image — anything that keeps users swiping till the end.
Example 3: Taco Bell
In this sponsored image post, Taco Bell reminds us that they're open for breakfast.
What Taco Bell did well
Imagery: This image, including the filter, nails the Instagram aesthetic. The image captures a feeling of fun, of youth, and of hanging out with friends — all very much consistent with Taco Bell's brand.
Copy: Major points for conciseness! The message is pure and simple. In addition, the use of the #WakeUpLiveMas hashtag keeps this ad consistent with their campaigns across other media.
Experience-oriented: In this ad, the food is not really the main focus. It's visible in the image, and it's featured in the main action of the scene, but the spotlight is on the people gathered to eat together.
Targeting: This ad would be a great candidate for time-of-day targeting.
What you can take away
Instagram users skew younger, and Millennials and Gen Z are more interested in having experiences (and in sharing those experiences with their followers) than older generations. This image conveys exactly the type of experience Taco Bell wants to have audiences associate with their brand — carefree, fun, and endlessly "Instagrammable." What moments do your products create for your customers that they might want to share on Instagram? Use this as a starting point for idea development.
Example 4: Monster
This video ad from Monster illustrates how to explain gaps in your resume, using a situation from Tom Hanks' classic film "Castaway" as an example.
What Monster did well
Video: Monster's video certainly captures attention quickly by making the audience curious as to how the situation is going to play out. By using a humorous example, the video makes the concept of explaining a resume gap easier to understand.
Copy: They wisely kept the caption copy brief, reinforcing the message without distracting the audience from the video content.
Reason to click: A big "Learn More" button invites users to find out how to talk about gaps on their own resumes.
What you can take away
In less than 30 seconds, Monster's video put a fun spin on a common problem and let their audience know that they can help. What sort of fun, comical, or compelling example could you use to showcase your value proposition?
Example 5: HTC
HTC promotes their new phone in this series of colorful image posts.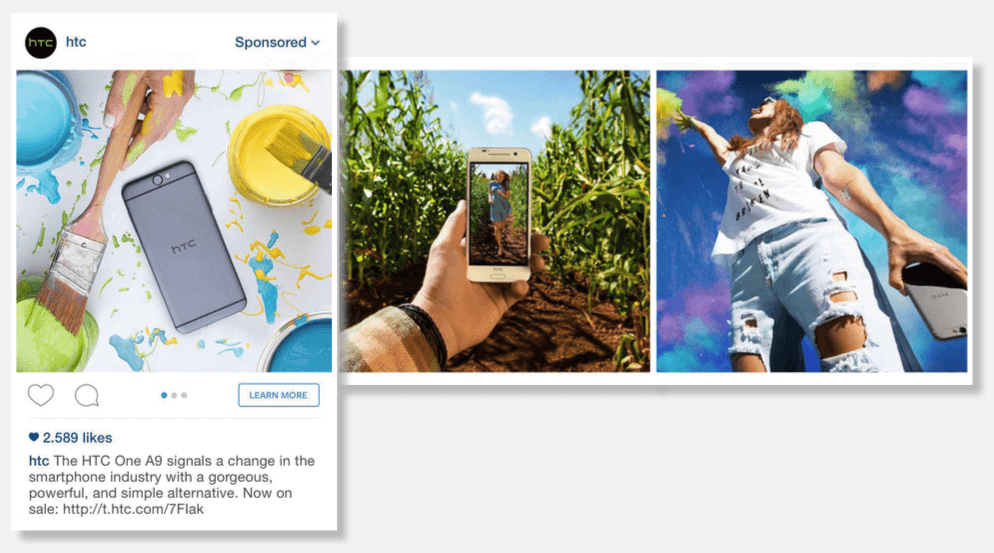 What HTC did well
Imagery: In another great example of the Instagram carousel, HTC paints a bright and engaging picture (pun intended). They have embraced the native advertising concept by creating images that could each stand on their own as posts from an individual user.
Reason to click: The "Learn More" call-to-action button and the link in the caption invite users to explore the features of this new device — helpful, since the ad itself is intentionally scant on the details.
Experience-oriented: This ad doesn't really focus on what differentiates HTC's new phone, but focuses on experiences, colors, and artistic compositions.
What you can take away
Make art! Instagram seems to get us more in touch with our artistic sides. Don't be afraid to get artsy or playful, as long as it is consistent with your brand identity.
Example 6: Staples
In this simple, clean image, Staples showcases Poppin desk products.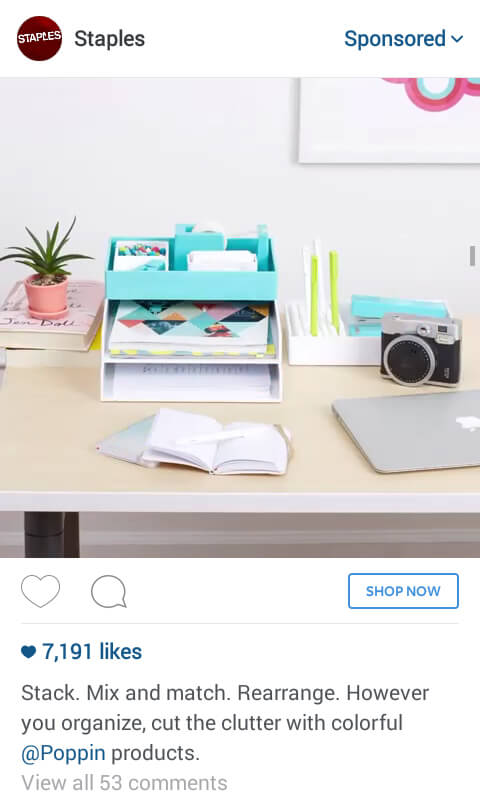 What Staples did well
Imagery: Just looking at this photo makes you want to organize your desk, doesn't it? Putting the products in context helps the audience imagine how they would use them in real life.
Copy: The copy is short and to the point, quickly calling out versatility and color options as differentiators.
Experience-oriented: By presenting them with a clean, uncluttered, and beautiful desk, the ad puts users in the mindset of organizing their own spaces.
What you can take away
Most of us would like to be more organized, but few can accomplish (and maintain) the state of perfect organization presented in this ad. What does your audience aspire to? Think about a setting in which you could place your products to demonstrate their value and create a sense of aspiration in your audience.
Example 7: The North Face
In a stunning, on-brand visual, The North Face promotes their Speaker Series for the premiere of a documentary about climbing Mount Meru.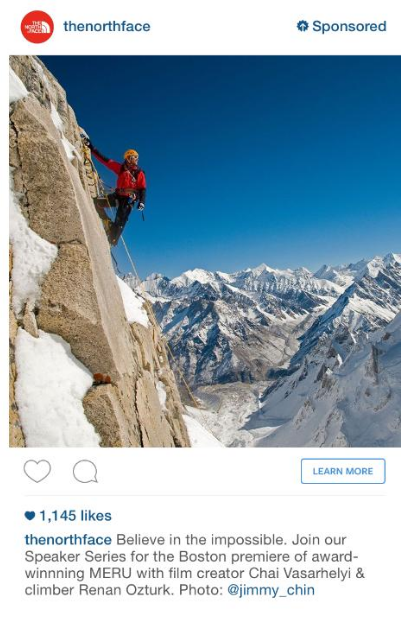 What The North Face did well
Imagery: This gorgeous photo is perfectly suited to The North Face brand, inspiring a sense of adventure, achievement, and daring. Plus, they didn't actually have to take it — the film's director, Jimmy Chin, gets the credit for this beauty.
Copy: A picture is worth a thousand words, and The North Face is not trying to detract from this one with their caption. They stuck with a simple statement ("Believe in the impossible") and a brief invitation to the event.
Experience-oriented: Will buying a North Face jacket enable you to climb Mount Meru? Probably not. But the ad implies that serious climbers prefer The North Face, and creates a connection between their brand and such amazing feats as climbing a mountain.
Targeting: This would have been a good time for the advertiser to geo-target the Boston area, since they're promoting a local event.
What you can take away
The North Face inserted their brand and their message into a compelling story. What stories or events would be a good fit for your brand to engage with? With social media, involving your brand in something that is already taking place will garner more engagement than trying to generate excitement from scratch.
Example 8: Try the World
The global snack box company uses two simple, striking images to showcase what they offer.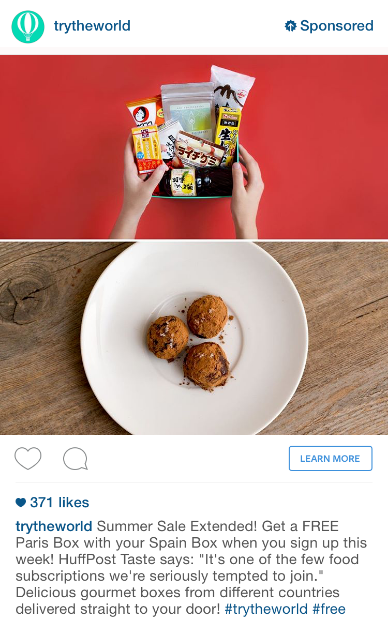 What Try the World did well
Imagery: The use of a split image to show the entire box as well as an individual snack, plated and ready to eat, was a smart choice — as was the attention-grabbing red color. Food photos are all over Instagram, and Try the World's sponsored post is reminiscent of that trend.
Copy: The image caption is short, but accomplishes three objectives: 1) enticing the audience with a BOGO promotion, 2) citing a HuffPost reference to help their credibility (since they're a newer brand) and 3) briefly explaining their value prop.
Reason to click: Try the World is using a free box promo and the "Learn More" call-to-action button to drive conversion.
What you can take away
It's possible to use multiple images without using the photo carousel option, and still create an eye-catching post. Try the World's ad reminds us that when it comes to visuals, sometimes simpler is better.
Example 9: Nike
In this image, Nike promotes their running app's replay function that features data from Google Street View.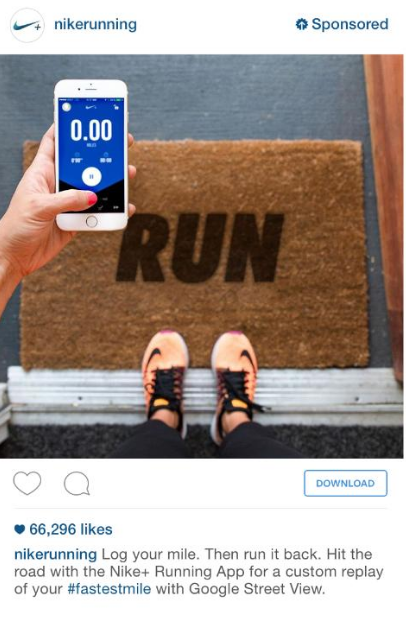 What Nike did well
Imagery: This sponsored post perfectly captures the moment before a run, and the challenge of beating your personal best. It's also another great example of that "Instagram aesthetic."
Copy: Nike gets right to the point, calling out how to use their app's new replay feature, highlighting the fact that it uses Google Street View, and wisely making use of only one hashtag.
Reason to click: This represents an excellent example of when to use the "Download" call-to-action button to drive app installs.
Targeting: Although it's hard to know exactly which targeting options Nike used for this ad, this would have been a good fit for users who had expressed a specific interest in running or fitness, had used a running-related hashtag, and/or follow other Instagram accounts popular with runners — such as the accounts of major marathons.
What you can take away
Think about your photo post as an opportunity to show a particular moment in time, and what emotions that moment should convey. Also, keep in mind that many different ad targeting options are available for you to test and refine. In fact, ad management software can recommend audiences based on a variety of factors in order to target the best audience for your message.
Now you try!
Now that you've seen some examples of successful Instagram ads, are you ready to try it for yourself? Remember, your ad will need to be visually compelling and accurately targeted. You'll want to give users a good reason to click, and deliver a message that's authentic and experience-oriented. You will also want the ability to adjust your campaigns in real time for continuous improvement.
Lastly, consider consolidating ad management across social media networks into one software platform, such as Astute Social. Astute's comprehensive social media management tools give you control over creative, budgets, testing, and analytics for ad campaigns on Facebook, Twitter, and Instagram. It can even recommend audiences for your campaigns based on a broad set of social listening data.
Already using Astute Social? Contact us to learn more about ad management functionality.
Related Content