McDonald's
McDonald's improves customer satisfaction and franchise relations with one solution.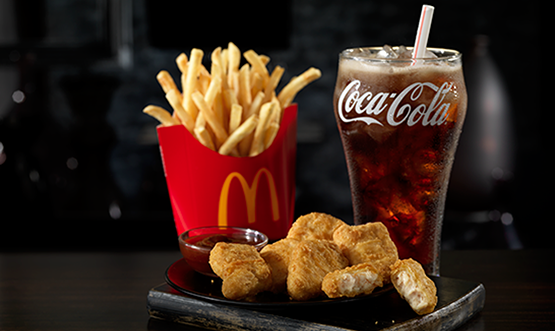 The Challenge
When you serve more than 25 million people in the United States each day, leveraging the right CRM solution is important. McDonald's customer satisfaction contact center was quickly outgrowing their CRM system. This system lacked the functionality to meet their evolving business needs and it was time to look for a better solution.
McDonald's was looking for improved functionality for their customer satisfaction group, as well as a tool that provided the company with real-time access, via flexible and comprehensive reporting, to the data that was collected from customers each day.
Their objectives were to…
Increase data capture with regard to customer feedback and satisfaction

Provide both McDonald's franchisees and corporate management with real-time access to customer data

Integrate the company's extensive and constantly changing restaurant database into a reliable CRM tool

Gain robust and actionable reporting capabilities that provide measurable customer  satisfaction results from the national to  franchise level

Provide system functionality and flexibility that will support evolving business needs
The Solution
McDonald's relies on Astute Solutions to provide improved data capture, quicker issue resolution and real-time reporting while integrating the company's extensive restaurant database into a centralized location.
AstuteAgent™ (formerly ePowerCenter™) provides greater flexibility and functionality to the organization, which has been key to supporting their evolving business needs.
McDonald's recognized a growing trend in the quick service restaurant industry toward accurate and timely customer service. Choosing the right technology solutions was key to helping them meet their goals. With Astute Solutions, they found a partner that was able to provide the innovation and technology they required as well as the service and support they demanded.
---
"Consumer Affairs and CRM are critically important functions to any large company. It's clear that Astute understands the important role they play, and meets the ever-changing needs of their prime customers through continued innovation."
– Christopher Garrity, Senior Director Customer Satisfaction, McDonald's
---
The Results
After implementing Astute Agent in the customer satisfaction contact center, McDonald's decided to also deploy it in contact centers supporting Human Resources, Investor Relations, and Operations. They've also extended its use to support their restaurants in Canada.
Astute Agent allows McDonald's to track more than 600 types of diverse customer issues through issue codes. It also enables them to capture other very specific types of information from customers regarding their experiences at McDonald's restaurants nationwide and in Canada.
With more than 15,000 restaurants just in the U.S., Astute Agent provides McDonald's the ability to integrate into their CRM systems. This combination of databases gives them the power to measure customer satisfaction results both from the national level, and down to the individual restaurants. Ease and flexibility made Astute Agent the perfect choice for McDonald's.
---
"We've been working with Astute for more than seven years and I truly don't think of them as a vendor — they are a business partner. They didn't just sell us and walk away. Astute is extremely responsive. They listen to our needs, understand them, and when appropriate, make value-added recommendations for better ways to improve our customer satisfaction strategies."
– Christopher Garrity, Senior Director Customer Satisfaction, McDonald's
---
About McDonald's
The world's leading global food service retailer was founded on ability to provide consistently high quality and uniform preparation regardless of location. From humble beginnings as a small restaurant, they have become one of the world's leading food service brands with more than 36,000 restaurants in more than 100 countries.