Is your Customer Feedback vendor HITRUST CSF® certified?
Astute VoC (formerly the iperceptions platform) is HITRUST CSF® certified for information security by the HITRUST Alliance.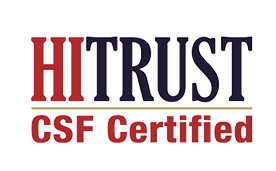 HITRUST CSF® certification validates that we have implemented all the measures to meet the highest information security control objectives and specifications, and has been assessed independently.
You can rest assured that your feedback is collected, processed, and stored according to one of the highest levels of security attainable.
Our voice of the customer solution is HITRUST CSF certified.
How safe is your Customer Feedback?
Would you trust a non-certified customer feedback vendor?
With growing concerns over security and privacy, the protection of customers' and patients' information, including any feedback they provide, is critical.
Before partnering with a feedback management vendor, make sure they have the measures in place that ensure the security of your and your survey respondents' personal information.
About HITRUST CSF®
The HITRUST CSF® (Common Security Framework) is a framework that combines a number of industry-defined regulations, standards and frameworks that guide organizations towards meeting the rigid challenges and compliance requirements for the Healthcare sector. Specifically, its mandate is to ensure the safe and secure creation, access, storage and exchange of Protected Health Information.
The HITRUST CSF includes, harmonizes and cross-references existing, globally recognized standards, regulations and business requirements, including ISO, NIST, PCI, HIPAA and State laws.
One of the highest levels of security
Organizations are independently assessed
Single benchmark to facilitate internal and external measurements of security processes and standards
Increases trust and transparency among consumers and business partners
For more information, visit hitrustalliance.net.
We are one of the only HITRUST CSF® certified systems for collecting and analyzing customer feedback
Some "self-assessed" customer feedback platforms:
Can be conducted by any organization that utilizes the tools and methodologies of the CSF.
HITRUST performs a "limited validation on the results of the self-assessment to provide a limited level of assurance to the relying entity."
Compare this to the Astute VoC HITRUST CSF® certified platform:
Conducted by a HITRUST Approved CSF® Assessor, and involves onsite interviews, documentation review and system testing.
Only those who meet or exceed the current CSF® Assurance Program requirements can be HITRUST CSF® Certified, providing a greater level of assurance.
Our HITRUST CSF® certified solution helps brands measure and elevate experiences across several industries
HEALTHCARE
FINANCIAL SERVICES
RETAIL
HOSPITALITY & TRAVEL
AUTOMOTIVE
TELECOM
About Astute
Astute is a full-service end-to-end customer engagement platform for the world's largest global brands. Astute unifies all first-party data across the customer journey, offering AI-driven customer self-service, agent desktop CRM, social media management, and powerful Voice of the Customer tracking and analytics. No matter how customers choose to engage, Astute elevates the interaction while capturing invaluable first-party data to improve the journey. Winner of the 2020 Stevie® Award for Most Innovative Tech Company and CUSTOMER Magazine's 2020 Contact Center Technology Award, Astute's commitment to innovating the customer experience is well-recognized in the market.