Engaging Millennials, Part 5: A Digital Concierge for the Digital Generation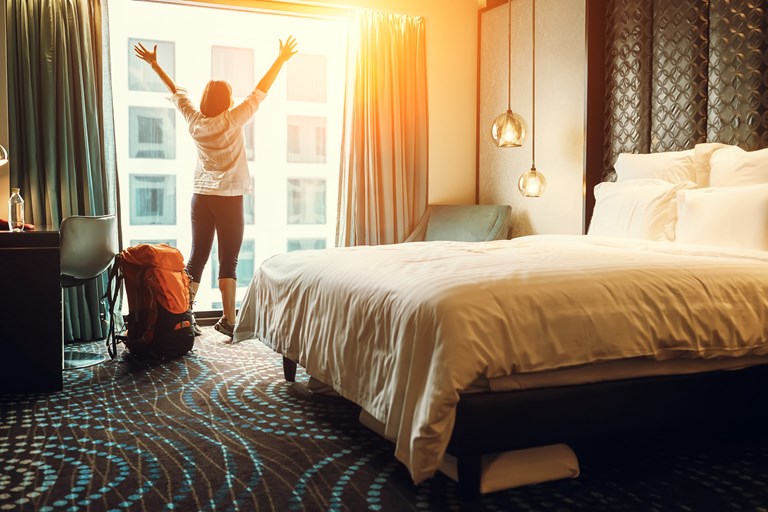 In the next installment of our Engaging Millennials blog series, we're exploring the travel and hospitality industry and what brands can do to capture the loyalty of the newest generation of guests.
With a population of 1.8 billion, the "experience-driven" Millennials are key customers for every hospitality brand, and as we saw in the airline industry, new brands are being created to focus solely on providing the experiences for the younger generation.
Call it Canopy by Hilton
Moxy by Marriott
Element by Starwood
GLo by Best Western
And that's just to name a few.
"Traditional hotel chains are catering to the tastes of young adults who have never known a world without the internet."
-New York Times
Changing technology and guest expectations are re-shaping the hospitality industry. In 2016, the Hotel Association released a report on the financial effect that Airbnb is having on the industry in New York City alone. The report estimates that hotels are losing around $450 million in revenue each year due to Airbnb.
From September 2014 to August 2015:
480,000 hotel room nights were reserved
2.8+ million room nights were booked via Airbnb
Today's travelers are seeking more unique experiences when traveling, which is why many Millennials (nearly 40%) are choosing the home-sharing app over traditional standardized hotel rooms.
The creation of Airbnb, thanks to today's technology that connects people all around the world, represents the first real challenger to the traditional hospitality industry.
So what preferences must hotels focus on to appeal to the 21st century guest?
Unique and personalized experiences
It is absolutely no secret that today's consumers, especially Millennials, are searching for unique and personalized experiences. That is one of the reasons Airbnb is becoming so popular. Each home on the app is unique, and can offer guests a true experience of what that destination is like.
"Don't go there. Live there. Even if it's just for a night." – Airbnb
When it comes to these experiences, guests are sharing the details of their stay like never before. All eyes are on the guest experience. Each guest holds the power to affect your brand's reputation with a few clicks on their mobile phone. That is why it is an absolute must for hotels to start focusing on providing a high-quality guest experience. The impacts of these reviews can be huge:
To ensure that you're regularly providing a high-quality service experience, use a integrated CRM and social media management tool across all hotel locations. The CRM stores customer data across all touchpoints in one centrally-located area, making it easy to track trends and report on customer insights, and tailor each interaction personally to the guest. And by being involved in the conversation across social media platforms, you'll be able to engage and highlight positive guest experiences, and correct any experiences that may have gone wrong – before damage to your brand reputation occurs.
A digital concierge
The biggest way to provide a great experience for today's guests are through seamless and easy interactions, making the guest's trip as convenient as possible. Brands must adapt to new technology advancements and meet the customers expectations for the mobile experience. Hospitality brands today must offer the ability for a guest to select their room, check in with a digital key, order room service, and complete any other transactions all through their own mobile device.
Forty-four percent of Millennials prefer booking hotel services on their mobile device.
-IHG 2015 Trends Report
Self-service must go beyond the website, be mobile friendly, and exist within your branded app. It used to be an added luxury when it comes to customer service, but today's guests will be frustrated without it.
How Astute helps
Astute's CRM collects customer data across phone, web, social, and email – and stores it in a central location for easy analysis. Don't miss out on customer insights, capture each interaction, and personalize the service experience to each individual guest.
For personalized, mobile interactions that create a convenient and frictionless experience, turn to a conversational service chatbot. Astute Bot allows your guests to communicate in a friendly, contextual way across channels and engage with a bot that uses natural language processing and narrow AI to find the answers they are searching for. Astute Bot can also proactively deliver notifications, such as check-in information, room service orders, and digital keys to the guest, optimizing the customer journey.
Astute Social uses sentiment tracking, trend analysis, and influencer data to identify opportunities for real-time engagement for your brand. Use social listening in the real-time command center to create meaningful engagements with your guests across every major social platform.
See our consumer engagement suite in action by setting up a personalized demo today.