Product Updates: January 2016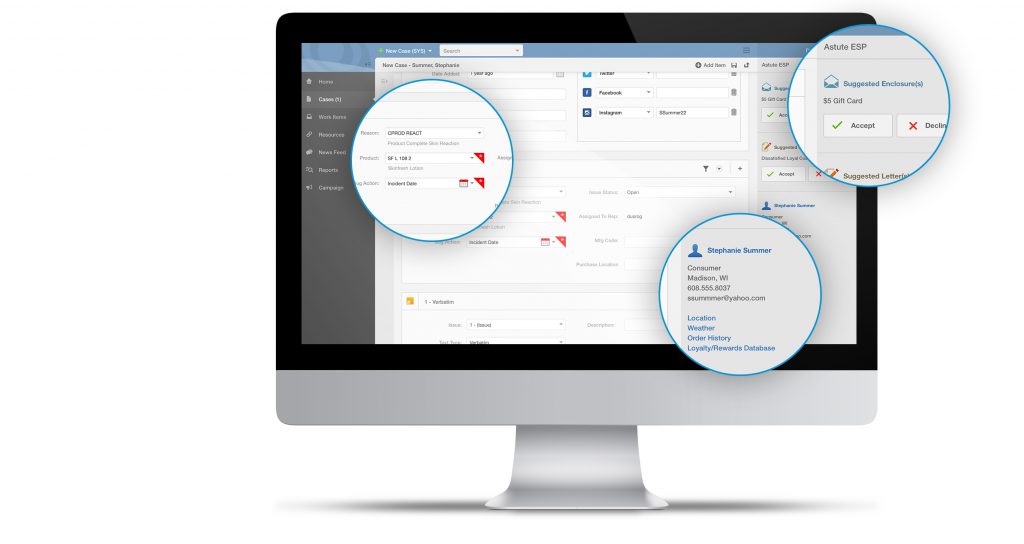 ePowerCenter
New Features
CashStar egiftcard tracking capability has been added to 9UX to help agent determine if a CashStar egiftcard has been viewed. This is an "on-demand" function the agent must initiate. The information is temporary and is not stored on the case
Enhancements
Category Code browsing lists have a new look and feel and improved usability.
Support added to ESP for B Codes. This allows agents to view address information in ESP panel
Astute Knowledge
Enhancements
Star Surveys have been enhanced to allow users to add a comment in addition to their star survey on the effectiveness of the content. The comments are available in the standard reports as well as the Feedback tab of the topic. Star Surveys have also been updated to allow customers to define the text of each of the stars. Traditionally, the text was worded for how a public user would survey content.  Call centers can now modify the text to represent how agents or other employees might rate the content.
Astute Social
New Features
Response Metrics is a dashboard page within Engagement. The core purpose of response metrics is to inform you how often and quickly you are engaging with consumers. One of the largest issues in the past with this calculation was that business hours were not taken into account. Response metrics can now take business hours into account to give you accurate metrics around social engagement time.
Business Hour Configuration is available. To support response metrics, the ability to create and maintain business hours and off days was necessary. The business hour configuration allows you to set hours for the entire company in one place, as well as set exceptions for holidays. All response metrics including flagging will be calculated using both standard time and business hours to offer more flexibility in reporting.
SLA accordance is now available. This will enable you to set a standard social SLA across the company in 15 minutes intervals. This SLA accordance can either use standard hours or business hours. SLA accordance can be tracked on the Response Metrics page.
Astute SOS
New Features
Dual-video capabilities are now available. The agent has a new button that toggles a second video feed from a second web cam. The new video feed is then displayed to the agent as an extra thumbnail and to the customer as the main view. This button only displays if two video feeds are available.
Bug Fixes
Fixed SOS Widget alignment

Widget now moves as the page scrolls
Widget is flush to the left of the page if aligned left
Widget does not disappear if aligned right