The Bot Revolution: 5 New Laws of Customer Communication
Consumers are demanding to talk to brands as casually as they talk to their friends, and they expect an immediate response 24/7. Providing that level of service is impractical—if not impossible—for most brands, without using some form of automation. Until recently, though, the limitations of automated technology meant compromising the seamless, robust experience that's been proven to create loyal customers. 
Now, chatbot technology is radically changing everything we know about customer communication. Here are five things you need to know about the bot revolution:  
1. Nobody uses their phone to make phone calls anymore.
Only 43% of smartphone owners use their phones to make calls, but over 70% use them for text-based communication (texting/SMS, messaging, or chat). The average adult spends a total of 23 hours a week texting. And over a lifetime, the average Millennial will spend 12 years texting.
Why? Phone calls are interruptive, inconvenient, and inefficient. And they don't allow for multitasking—when you're using your smartphone to make a call, it's a "dumb phone." While we used to just pick up the phone to solve a problem, now we start with texting/chat, then escalate to voice. 
2. You need to meet customers where they already are
Messaging and chat apps are rapidly gaining popularity over texting/SMS, especially among Millennials. Globally, 6 of the 10 top apps are messengers (such as Facebook Messenger, WhatsApp, and WeChat).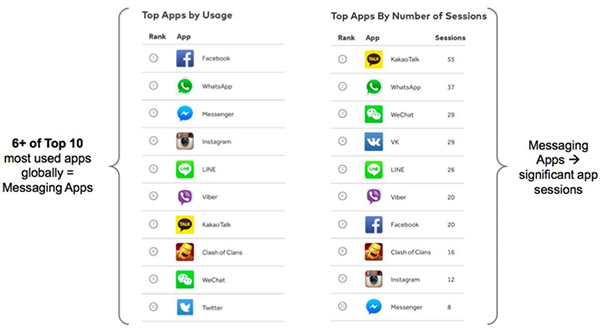 There's a practical reason for this increased usage: messaging doesn't count against monthly SMS limits, and if you're connected to wifi, it doesn't use up any data either. There's also an emotional component: messaging has the feel of a real-time conversation. You know when your friends are active in the app, and even when they're typing a response.
"Beneath all the fun and emoji silliness, we've been evolving something groundbreaking and profound. We created a new way to ask questions and receive an answer that is a lot closer to how people do it in real life."
–Alex Iskold, Entrepreneur
By 2018, 3.6 billion people are projected to be using messaging apps—that's 90% of total internet users.

And, of particular importance to businesses, that's more people than could ever be served via IVR or email.
Consumers are now demanding messaging as a customer service option. A 2012 study found that texting/chat was the highest rated contact method for customer satisfaction, and in the three years following that, the number of American adults using that channel for customer service increased from 43% to 65%.
According to a Harris poll, almost two-thirds of consumers are likely to have a positive perception of a company that offers texting or chat as a service channel. Yet by the end of 2016, 39% of contact centers will still be missing that opportunity to impress their customers. 
3. Messaging apps are disrupting the mobile experience
Picture a non-frequent flier—let's call her Kate—who wants to make a flight reservation using her smartphone. Currently, Kate can either use a search engine to find a website, or she can download a branded app. As you'll see, both methods include multiple stumbling blocks and possible frustrations.
The Search Engine Experience

Kate might start by searching for an airline she's flown in the past, which will lead her to the airline's website, which might not be mobile-friendly. But even if it is, at some point Kate will be forced into one of the most painful smartphone experiences—filling out a form. If she's in a hurry or not an adept smartphone user, she might get frustrated and give up.
The Branded App Experience

Or Kate might decide to use the airline's app, or even a travel app like Kayak. Because she doesn't purchase tickets often, she'll need to open the App Store or Google Play to search for and download the app. And because every app works differently, she'll need to learn to navigate an unfamiliar platform. Hopefully Kate will overcome those obstacles and make the reservation, but what happens after that? If she turns off notifications or deletes the app, the ability to communicate with her via that channel is lost.
The Messenger Experience

Using a messaging app eliminates the roadblocks. There are no forms, no downloads, no new platforms.

Kate can use an interface she's already familiar with to instantly engage with a brand. She can use natural language to buy a ticket, download a boarding pass, or ask a question. And because Kate is unlikely to stop using the messaging app, the airline can follow up with flight updates, surveys, and sale notifications. 
4. Bots provide self-service on steroids
A bot is a piece of software that leverages artificial narrow intelligence to perform specific tasks in place of a human. Specifically, a chatbot understands language, not just commands. And it learns from each interaction to get smarter and better.
Remember the pop-up avatars from a few years ago, like this one? They could only respond with pre-programmed answers, and if you asked anything outside of very simple commands, they would give you an 800 number to call. The current self-service options are not much more advanced.
But chatbots are changing all of that. When a consumer asks a question, the bot:
Uses natural language processing to understand the intent of the question

Gathers relevant information from the company's website, FAQs, or knowledgebase, or even trusted external sites

Sifts through that information to find the answer

Simulates human conversation to respond
Bots will, of course, encounter situations that require the nuance and analytical thinking of a human. When they do, they escalate to an agent, passing along the context they've gathered during the interaction to ensure a seamless customer experience.
And the technology continues to advance: Gartner predicts that by 2018, bots will be able to recognize customers by face and voice across channels and partners. 
5. Chatbots can be a powerful marketing tool
Since a chatbot is designed to work within messaging apps such as Facebook Messenger, it can serve as a 24/7 online concierge for a company or brand.
A Harris poll found that consumers want to use messaging to check order status, schedule or change appointments, and make or confirm reservations, all of which chatbots can handle with ease.
"Chatbots meet a felt need. Customers are now accustomed to texting in questions and we absolutely hate waiting in a queue on the phone. We know technology has the answer. We also know we are not asking anyone to invent cold fusion. We just need to return some jeans to Amazon." -John Brandon, Inc.com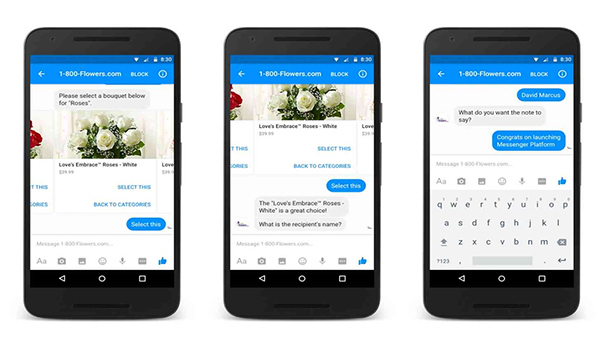 When used thoughtfully and creatively, these chatbots can radically change not only how you provide service, but also how you market your products and brand.

Their capabilities include:
Allowing customers to make purchases without leaving the messaging app

Using customer information and context to offer personalized product suggestions

Linking to relevant webpages, like customer product reviews

Guiding conversations by providing "choose your own adventure" topic options

Initiating new interactions to re-engage consumers

Following up with cart reminders, coupon codes, etc.
Additionally, a chatbot can help you create an exceptional customer experience by providing robust "voice of the customer" data and actionable insights.
How Astute Can Help
Astute will work closely with you to develop and implement a plan for strengthening your customer relationships using bots and other cutting-edge technology. Request a demo to see how.