Top 4 Tips for Awesome Real-Time Social Media Engagement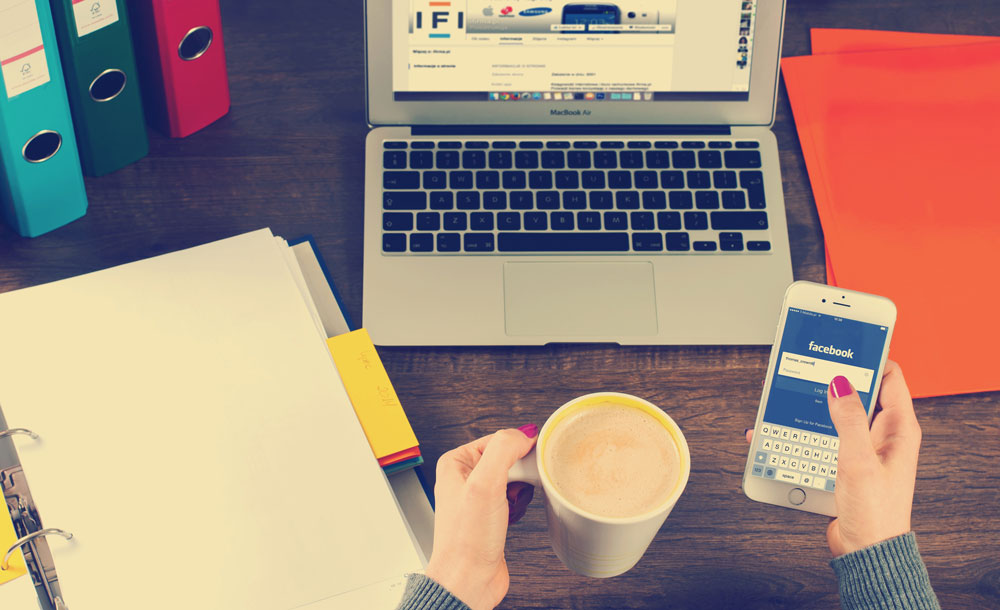 More than any other channel, social media allows for brands to communicate directly with their customers and act on a moment's notice. To stand out in this noisy space, savvy brands capitalize on what's already happening instead of trying to generate buzz from scratch. A perfect example of this is leveraging real-time social media monitoring to achieve "live" marketing during a major event, like an awards show or sports championship.
For example, think back to the 2014 Grammy's when Pharrell Williams arrived in a hat that looked similar to the Arby's logo. The brand sent out a tweet that read "Hey @Pharrell, can we have our hat back? #GRAMMYs." Since then, the tweet has been retweeted over 78,000 times and garnered over 60,000 favorites — engagement they wouldn't have received if they hadn't been prepared to jump on the opportunity.

Rewards — and risks — are elevated in this type of real-time social engagement. So before the next big event, set yourself up for success by creating a plan with built-in flexibility for any surprises. Here are four top tips to keep in mind when crafting your strategy for real-time marketing during a live event…
1. Establish firm goals
Ask yourself one key question: "What results do you want?" This question will help drive your strategy forward and define your goals. Here are some possible results to consider for your real-time social media marketing initiative:
Change brand image or customer perception
Increase brand awareness
Drive sales
Push back against a competitor
Create customer loyalty
Acquire new customers
Of these outcomes, trying to drive sales through a real-time event on social media is incredibly risky. Social media users will call you out if your message doesn't feel organic. This will be challenging, even if your brand has a direct tie to the event.
Choosing another of the goals listed above will carry less of a risk, and will indirectly impact sales. A now-famous example of using live event marketing to build brand awareness is Oreo's "You Can Still Dunk In the Dark" tweet series during the power outage at the 2013 Super Bowl. Through a combination of smart social media monitoring, creative newsjacking, and simple graphics, Oreo drove massive amounts of social engagement and brand awareness.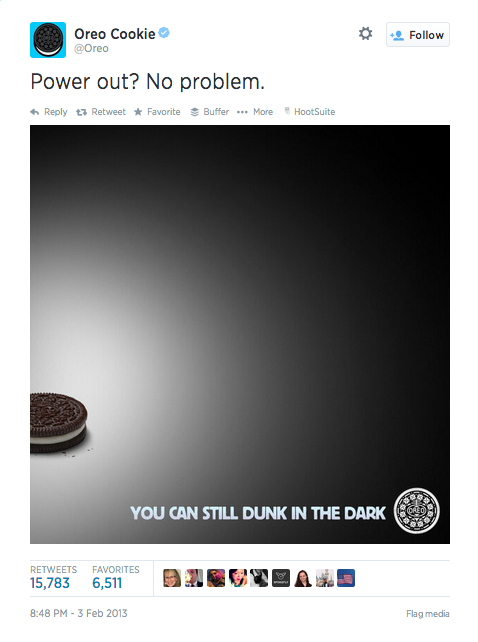 2. Arrange for the right resources
Once you have a strategy in place for monitoring social media, your content needs to look well thought out, crafted, and polished. To this end, make sure your staff is available and your resources are suitable for the event. Your staff could include social media managers, copywriters, and graphic designers. Giving each team member the necessary software is crucial for a successful campaign.
One of the resources you'll need is a social media tool that enables you to…
Assess situations as they evolve with real-time data visualizations and dashboards
Proactively engage with your audience
Leverage social media during live events, campaign launches, and PR crises
3. Set up an approval process
If there is one step to avoid skipping, this is it. Designing a process that won't hold up real-time event engagement is important because you'll have a larger and more attentive audience than usual. You want to have measures in place to avoid missteps.
For example, designate one or two people whose sole responsibility is approving content. These people should understand the bigger picture so they can help you avoid publishing conflicting messages or duplicate posts. Unless company culture dictates that a higher level of approval is needed, every item should be reviewed by at least two people. Setting up clear guidelines ahead of time will minimize misunderstandings and delays.
One example of such a misunderstanding? A few years ago, DiGiorno Pizza participated in a conversation on Twitter using the hashtag #whyistayed. This hashtag actually referred to domestic violence after a publicized domestic dispute between a professional football player and his wife — which is probably not something the brand wanted to be associated with.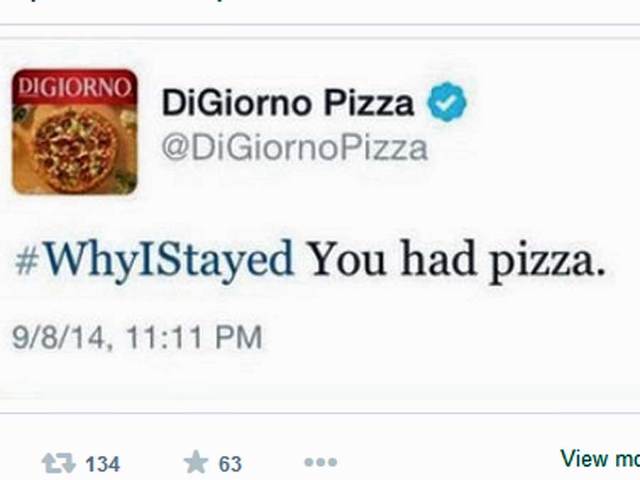 The moral of the story is to make sure your participation is appropriate. Not everything that trends will be a good idea to participate in. Having an approval process in place will reduce the risk of an egregious faux pas.
4. Use your channels wisely
All social media channels are not created equally. There are best practices for Facebook versus Instagram or Twitter. Consider content type, tone, hashtag usage, and other factors like frequency when posting to social media.
Plan your posting frequency and content type for each channel, filling in the message and tone as you go. When the real-time data for engagement by channel comes in, be prepared to adjust the plan or start over altogether. This is why metrics for your current audience is crucial. Look at what worked for similar events and read up on the best practices for each channel. For this, having a tool that allows you to adapt social content based on real-time trend information is very helpful.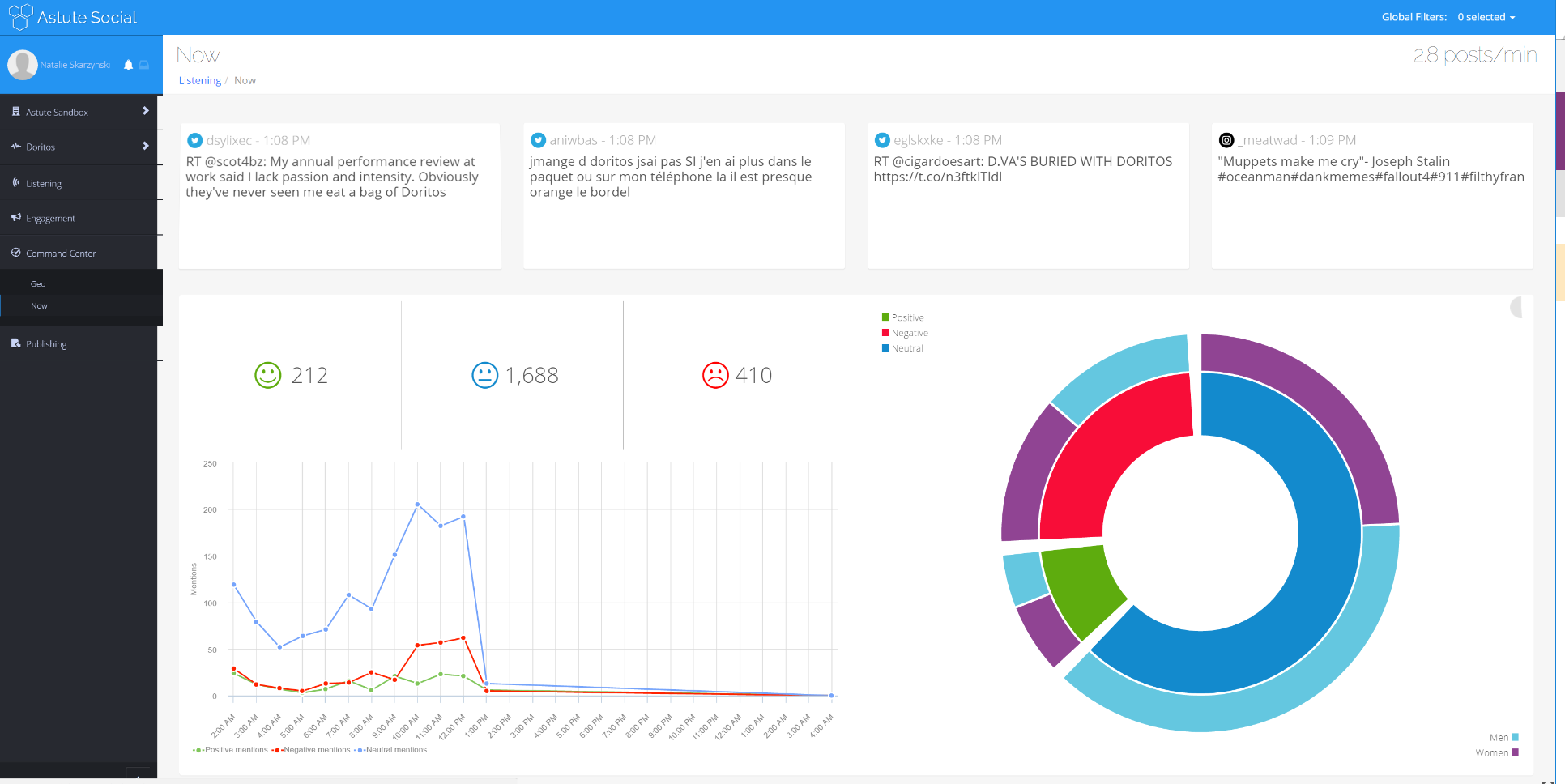 Want to see how Astute Social Command Center can help empower you with social media insights in real-time? Watch the short video below and then schedule a personalized demo.