Key CX Challenges Facing the Hospitality Industry
Hotel brands are starting to better understand the importance of the guest experience to their success, but few are considering the customer journey in its entirety.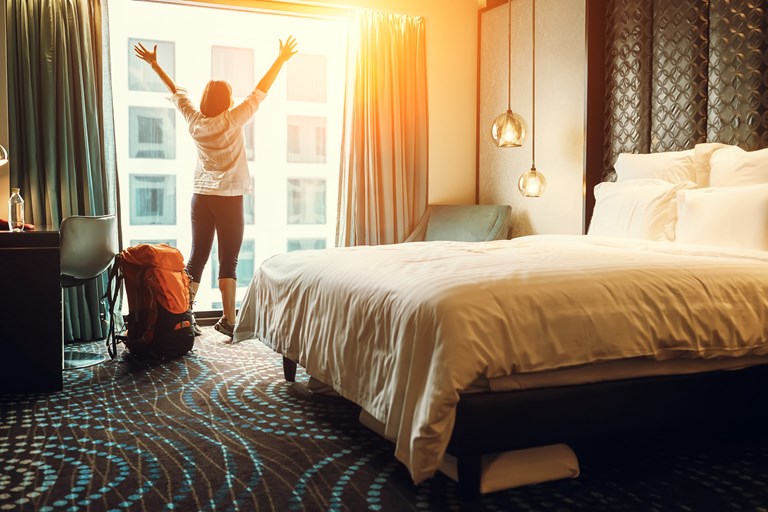 In the reputation economy, the consumer's voice is louder than ever. With just a few taps on their smartphones, they can compare room rates, check your hotel's ratings and reviews, and make a purchase decision based on the experiences of other guests. When it's so easy for your guests to share a positive or negative experience—whether via social media, TripAdvisor, or other sites—the impact of the guest experience becomes even greater. Consider the financial implications of sub-par experiences1:
A poor experience decreases loyalty by 20%—meaning that, for every five guests that have a negative experience with you, one of them will never stay with you again.

Price sensitivity doubles when guests experience problems, and doubles again when more problems arise—meaning poor guest experiences significantly decrease profit margins.

Compared to positive experiences, poor experiences cause two to four times as much negative word of mouth—meaning unhappy guests will generate two to four times as many nasty reviews on TripAdvisor.
A big challenge for most hotel brands is understanding that although online reviews are based on guests' stays at individual locations, they affect the overall brand image. Creating a consistent experience across all locations is a difficult task, but one that's critical to the company's long-term success.
According to Forrester, 78% of US online consumers prefer to get answers via a company's website vs. telephone or email. What's more, messaging has been the fastest-growing online behavior over the past five years, even outstripping social networks, and is on track to total 2.5 billion users by 2018. How does this translate into what guests expect from your brand? Basically, people want to find their own answers and help themselves, and when they need assistance, they want to talk to brands in the same way they talk to friends or family.
Consumers are accustomed to using these channels in real-time, but most hospitality companies don't have the capacity to meet that expectation. A study published by EyeforTravel Ltd found that of the 15% of brands that offer support via messaging, one out of three take more than 24 hours (and sometimes up to a week!) to respond to a message.
Creating mobile experiences that attract Millennial guests
Companies can also leverage their branded mobile apps to provide the chat-based support their guests demand. Almost half of consumers use smartphones or tablets to book activities pre-trip, while about two-thirds use them for same-day hotel reservations. In fact, the percentage of hospitality sales attributed to mobile grew by 27% in the past year alone.
In addition, mobile apps can helps brands create connected, personalized experiences that increase revenue and build loyalty, especially among tech-loving Millennials. Many hospitality companies have apps that enable check-in and virtual keycards, but leading hotels are going further by allowing guests to make spa appointments, order room service, control the thermostat, text individual staff members, and more.
Rising to the occasion: Meeting guest expectations for service
For brands that are delivering the service experiences guests expect, technology is playing a leading role. A key innovation is self-service using chatbots. This technology allows customers to communicate using chat and messaging through websites, apps, and social media. They are able to ask questions and engage in conversation with a bot, who uses natural language processing to understand and respond to what the customer needs, and finds answers within a deep-learning knowledgebase, business systems, and/or external sources. Interactions are intelligent, personalized, and feel a lot like interacting with a human agent. Using this technology, your brand would be able to provide consistent, effective service at a lower cost.
When escalations to a live agent do need to happen, leading brands are making use of one-click escalation that enables agents to pick up where the previous interaction left off. Guests can choose to communicate with a phone call or video chat, and agents have all the context on the back end—they know who they're talking to, what they have recently done on the website or app, when they last stayed at one of your hotels, records of previous communications, and so on. The consistency of the guest experience can be maintained regardless of where and how guests choose to interact with your brand, resulting in an optimized customer journey.
Another way to ensure a consistent experience is by using unified CRM data collection and social media management across all locations. Corporate can track customer issues, identify trends and insights for future improvements, and glean best practices from individual locations that can be leveraged organization-wide.
Lastly, hospitality and travel brands need to capture Voice of the Customer feedback to truly optimize the experience at every step of the journey according to their guests' expectations. For example, you should be tracking the customer experience across your digital channels and understand how to build customer loyalty, measuring the effectiveness of your reward programs and their impact on both business and leisure travelers, and improving the booking process by understanding the key customer frustrations and issues with your booking tools.
Astute's suite of customer experience and intelligence tools helps hospitality brands like Choice Hotels deliver better guest experiences. Schedule a demo of our platform to see how.
Source 1: According to data from hundreds of studies conducted by John A. Goodman, author of "Customer Experience 3.0"