Why Social Media Listening Matters and How to Master It
Tuning into the social media buzz is critical for both customer engagement and marketing insights.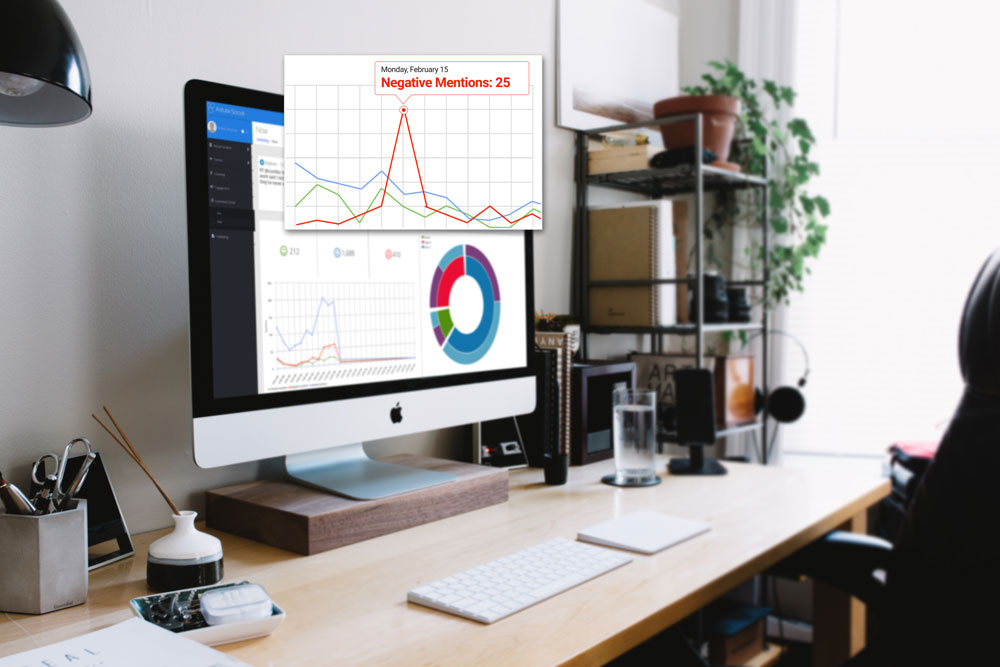 What is social media listening?
Social listening, also called social media scanning, is the practice of actively observing what is being said about your brand, your competitors, and your industry on social media channels, such as Facebook, Twitter, or Instagram. Social listening can help with:
Customer relationship management
Brand reputation management
Competitor analysis
Crisis or issue management
Innovation and product management
Market research and trend identification
Marketing campaign monitoring
Influencer identification
Being tuned into the social buzz helps marketers and service professionals stay current, and can alert them to up-and-coming trends that could affect your business. While social media listening provides insights into only a subset of your target audience, it can be powerful as a leading indicator and when combined with other first-party customer data like that stored in your CRM system.
How is social listening different from social media monitoring?
Social media listening is all about proactively looking for insights that can help inform decisions, while social media monitoring deals more with tracking social media activity you may need to respond to, often quickly. So, listening is proactive while monitoring is reactive.
For example, Astute's customer Dine Brands (the restaurant company behind Applebee's and IHOP franchises) uses Astute Social to monitor their accounts and key mentions across social media, allowing them to quickly surface and address guest questions and complaints. The Dine team can also use Astute Social to track and listen in on relevant conversations across the web, not only about their brands, restaurant locations, and products, but about related topics that could yield market insights. For instance, social media influencers could be starting a trend around the next big breakfast craze (it can't be avocado toast forever, after all) and social listening enables brands to be tuned into the conversation.
Why you need to be doing both social listening and social media monitoring
At the very least, all brands should be monitoring and responding to posts to/about your brand and products. There's nothing quite so embarrassing as missing an important post or tweet directed at your company. It reflects poorly on the brand and makes the company seem unresponsive, uncaring, or just flat-out behind the times.
Yet surprisingly, many companies are missing the mark here, with major consequences for customer loyalty. Research from Jay Baer and Edison Research found that one third of social customer complaints are never answered at all, and not answering a complaint decreases customer advocacy by as much as 50%. With so much at stake, social media brand monitoring is a non-negotiable for major consumer brands.
As for proactive social media listening, social platforms can be an extremely valuable source of insights. Compared to third-party data like market research studies, social listening can deliver first-party data, or information that's "straight from the horse's mouth." So it makes sense that companies make use of social media intelligence in addition to their traditional market research efforts.
Social media listening tools can help marketers better understand the competitive landscape and the needs of their target audiences. An analysis of social data can distill thousands of conversations into a handful of actionable insights. For example, social listening could reveal a trend in customers using your product in a different way than you imagined, opening up new audiences and messaging opportunities. Social media analytics tools could uncover negativity around a new product released by your competitor, giving you insight into how to compete with them. Tracking sentiment and emotions could show how consumers are reacting to a new ad campaign or product release.
Gathering market insights from social media tracking has the advantage of taking place in the moment. Social media happens in real time, telling you how your audience feels right now – as opposed to satisfaction scores, sales figures, and surveys, which indicate what happened in the past. Having a real-time pulse on your customers and the market proves incredibly valuable to strategic planning.
How to filter out the noise to make social listening useful
One of the main challenges with social listening is tuning into just the conversations that are relevant to you, and tuning out the rest. But this is easier said than done.
To understand just how much social media noise we're talking about, here are the latest 2020 stats from Omnicore on how much social activity occurs on average every minute of the day:
317,000 Facebook statuses updated
147,000 photos uploaded to Facebook
350,000 tweets sent
69,400 posts to Instagram
With such a high volume of social interactions, it's no wonder that many brands are hesitant to dip their toes in the social listening waters. But by using the right social media management tools, the noise can be filtered out to isolate the posts and comments that need action or can inform strategic decision-making.
For example, Domino's uses Astute Social to automatically search social channels to find posts that need attention – which is on average less than 3% of total volume. Before Astute Social, Domino's agents were manually sorting through social media posts to weed out the other 97%. Not only has the Domino's team gained greater efficiency when it comes to social listening, Astute's social brand monitoring settings enable them to be automatically notified of urgent issues. As Terri Haffey, manager of customer care at Domino's put it, "Astute Social allows us to hear the social media concerns and intervene quickly to make things right, even on nights and weekends. That has a big impact on long-term customer loyalty."
Social listening and customer engagement
Speaking of customer loyalty, engaging with customers on social media is a major component of today's customer care landscape. Social networks provide a forum for public dialog between companies and customers, facilitating a new level of customer engagement and shifting the balance of power to be more equal. Over the years, more and more customers have embraced its potential to connect with companies when they have a question or complaint.
This can be both a blessing and a curse. On one hand, direct communication with customers provides many benefits. But, customers who complain using social media channels have often already been failed by another channel.
When customers fail to get a resolution via email or phone, they often turn to social media to air their grievances and try to get their issue resolved. This usually leads to heightened negativity and anger in social support channels. For example, about 80% of customer service-related tweets are negative or critical in nature – and on average, those tweets are seen by more than one million people each week. That's a lot of exposure, especially for an interaction you would probably prefer to keep private.
Beyond exposure, you also need to be thinking about speed of response. It seems customer expectations for social media response times get more and more demanding with each passing year: for example, the world-class benchmark for response time on Facebook and Twitter is under 15 minutes. However, the average company is taking more than a day to respond to customers on social.
To provide effective social customer care, your top objective needs to be to identify which comments need your attention and address them as quickly as possible. The first step is social media brand monitoring to identify customer questions and complaints, then automatically routing them into your CRM so agents can address them.
It's important to have direct CRM integration and advanced routing capabilities so that…
Urgent posts can get to the right agent quickly
Agents can pick up and manage the case directly in their desktop interface
Agents can reply without leaving the case screen and without having to copy/paste conversations back and forth
The response can be posted back to the customer in the originating platform
Bush Brothers & Company is a great example of leveraging this social/CRM integration to provide significantly improved social media response times, cutting a three-to-four day handle time down to same-day. Efficiency improvements to their social customer care process allowed them to make a direct impact on customer satisfaction.
Social media brand monitoring for crisis management
When it comes to managing a brand crisis, social media brand monitoring is an indispensable tool. For instance, automated social listening, real-time command center technology, and the integration of social media and CRM can pick up on negative sentiment and trends early before they reach crisis level. Automated alerts can notify you of a potential crisis so you can get ahead of it.
For instance, if a new ad campaign is offending consumers, the company can react quickly to stop it airing again before it becomes a full-scale brand disaster with long-term reputation impacts. By staying tuned in to social sentiment and customer reactions related to your products and brand, you'll be equipped to act quickly and decisively when a potential crisis arises.
One of Astute's customers, a prominent personal care brand, has factored social media brand monitoring into their Enterprise Risk Management program. As part of a comprehensive risk mitigation initiative, they monitor relevant keywords and topics across social channels to identify potential brand threats and track the conversations. For example, since one of the key ingredients of their products is regulated by the FDA, they are tracking social conversations around the ingredient to find instances where they might need to address a consumer's concern.
Other Astute customers have set up threshold alerts and receive automated trend identification notifications when a topic starts trending on social, a key influencer mentions them, or if social volume is spiking beyond what they normally see. These proactive notifications allow the brand to be more responsive in getting involved in the conversation, mitigating any negative fallout, or scaling up team capacity to deal with increased volume.
Listening on more than just social networks
Conversations about your products happen on more than just Facebook, Twitter, Instagram, Reddit and other "traditional" social networks. They also happen on blogs, forums, and other locations across the web. Some social media monitoring tools are able to continually expand their network of known sites from which to pull in relevant mentions, giving you a more complete picture of what's going on.
Another key area beyond social networks where you should be monitoring what's being said about your brands are online reviews. Having a centralized place to track and respond to reviews, both positive and negative, greatly simplifies this task and improves your responsiveness. Look for a social media and reviews management tool that can bring in customer reviews from key sources like Amazon, Google My Business, BazaarVoice, PowerReviews, and more.
Social media listening tools
Providing social customer care and deriving market insight from social media tracking are both impossible without the right technology. Two main factors come into play:
filtering out the social noise to identify top priorities
automating the gathering of insights from social data
Advanced social media monitoring software uses natural language processing to understand unstructured language, even slang and sarcasm. This technology acts as "noise-cancelling" for social media, alerting your team to only the small percentage of chatter that needs attention. Technology like this allows you to follow up promptly and diffuse negative situations with customers as well as act quickly to engage customers proactively when warranted.
To be successful with brand monitoring and social market research, there must be some element of automation – otherwise, your team will spend countless hours scanning through mountains of photos, tweets, posts, and comments. Social media analytics tools intelligently sift through social interactions, distilling data into actionable insights for your brand.
Astute Social is a comprehensive social media management platform trusted by leading B2C brands all over the world. It combines listening and brand monitoring with consumer engagement, publishing, and ad management capabilities to offer a complete solution. Learn more about how Astute Social can help you better understand your customers, engage your community, and analyze your competitors – schedule a live demo today.